2021 Strategic Plan
Dream.Strengthen.Grow.
Have your say
FHS & SEAMO Timeline
January / February 2021
Launch and scoping meetings with FHS Decanal, SEAMO Management and Core Engagement Team
March / April 2021
Pollination Phase Focus groups and stakeholder interviews
April / May 2021
Insight consolidation meetings Leadership and Core Engagement Team
Late May 2021
Strategy Hives Eight 2.5 hour sessions
June 2021
Review Strategy Framework Leadership and Core Engagement
June/ July 2021
Development and Strategy Framework
July 2021
Endorsement by FHS and SEAMO Leadership
View a Powerpoint on the different stages
of the Strategic Plan process.
Learn more about the strategic vision for SEAMO as an organization.
Below you will find SEAMO's existing Strategic Plan.
In 2014, as SEAMO approached its 20th anniversary, a number of opportunities for growth emerged. From the changing landscape of health care, a consultation of key stakeholders on the future direction of SEAMO was undertaken and a three-year Strategic Plan was created. In it, five cornerstones of critical importance were identified that will position SEAMO for continued success. These cornerstones focus our efforts and prepare us for strategic change.
Download a copy of the Strategic Plan [PDF].
Five Strategies for Execution
Click on one of the strategies to learn more.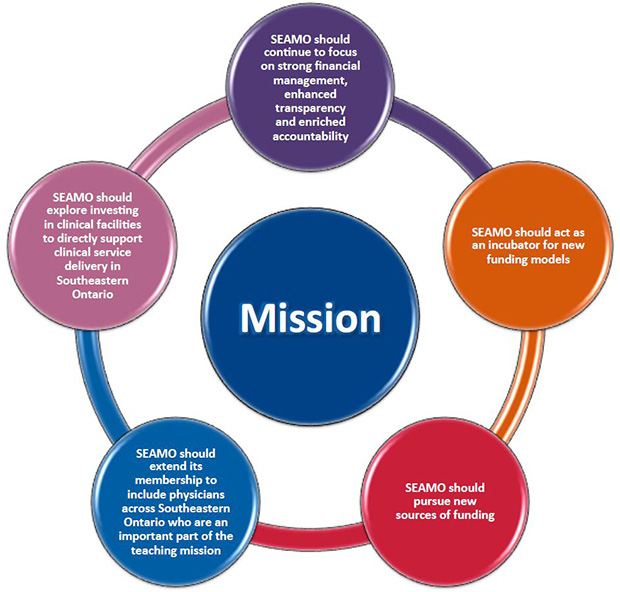 For the last several years, SEAMO has focused on the development and implementation of an Accountability Framework.
Moving forward, the goal is to refine and enhance accountability metrics, develop a centre-wide physician resource plan and strengthen departmental practice plans through the development of standardized templates.
Additionally, the Resources Committee will lead a review of the current physician compensation framework.
These activities will be carried out by SEAMO sub-committees with the involvement of the hospitals and the clinical departments of SEAMO.
The changing landscape of the current health care environment may well provide opportunities to explore new funding models. Over the next three years, SEAMO will identify and explore other relevant funding models, both domestic and international.
Building on its current expertise as an early adopter of a comprehensive AFP, SEAMO will position itself to act as an incubator for new models of physician compensation, such as outcome or performance-based physician funding (quality component) and team-based funding.
As a test site, SEAMO can provide innovative prototypes for new, integrated models, such as wellness care.
SEAMO will pursue new sources of funding. Options for consideration include organizations such as the Department of National Defence and Corrections Canada, with whom discussions are currently underway, and others that are relevant to SEAMO's academic mission.
This will involve the development of an environmental scan and formal engagement with potential funders.
SEAMO will explore opportunities for expanding membership to other physician groups, which are an important part of the teaching mission across Southeastern Ontario.
This includes physicians teaching residents and students in distributed medical education sites and satellite programs. SEAMO will conduct an environmental scan, investigate the feasibility with signatories and funders, and develop mechanisms for the inclusion of additional members to SEAMO.
Consistent with the health transformation agenda of Ontario, there will be an increasing proportion of academic service delivery moving out of the hospital environment and into a community setting.
This may provide SEAMO with an opportunity to become involved in clinical facilities. SEAMO will establish a task force to direct the development of an environmental scan and feasibility study.
A report will be drafted and tabled with the Governing Committee and other relevant stakeholders.
SEAMO is a unique organization of four signatories: the Clinical Teachers' Association of Queen's University (CTAQ), Kingston Health Sciences Centre (KHSC), Providence Care and Queen's University.
SEAMO is responsible and accountable for the Alternate Funding Plan Agreement with the Ministry of Health and Long-Term Care and the Ontario Medical Association.
We support the delivery of outstanding health care, foster excellence in research and education and facilitate the transformation of academic medicine in Southeastern Ontario.