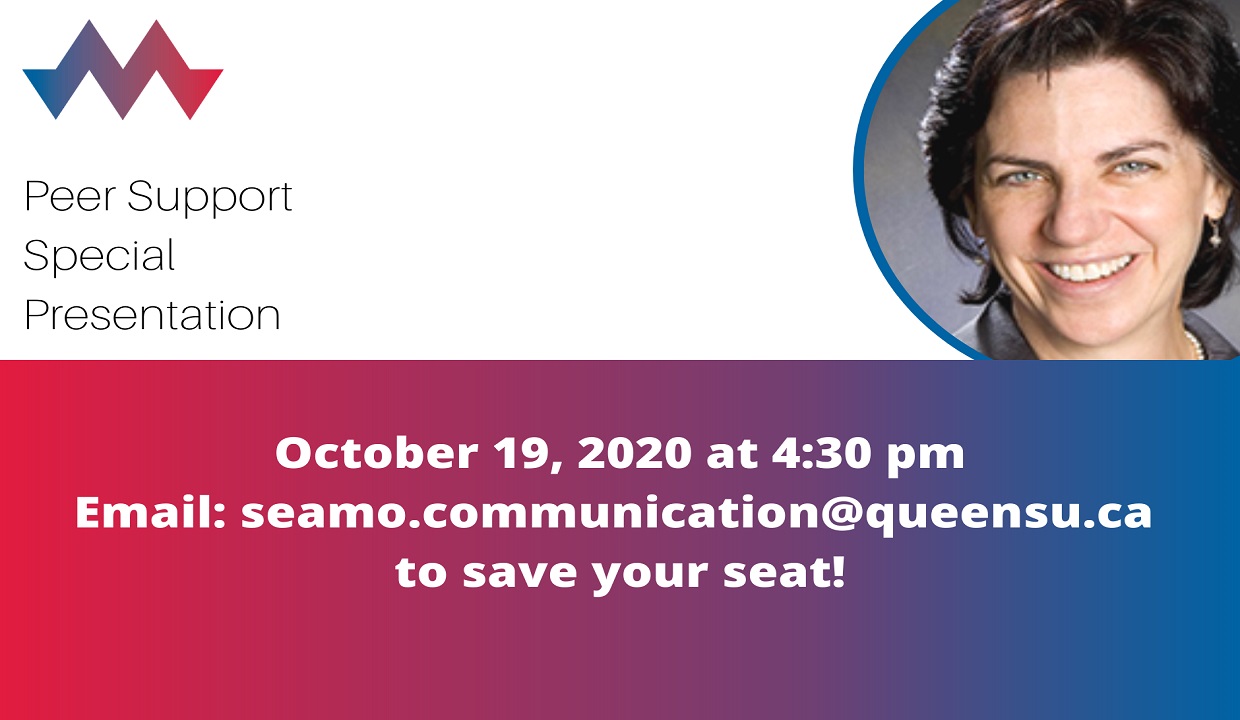 Peer Support Special Presentation with Dr. Jo Shapiro
The Physician Wellness Advisory Committee (comprised of SEAMO, Kingston Health Sciences Centre, and Providence Care) and PSI (Physicians Services Incorporated Foundation) are proud to present a virtual special presentation on October 19 from 4:30 p.m. to 5:30 p.m. titled "Peer support: The power of colleagues to help us heal". Facilitated by PSI visiting scholar and Harvard physician Dr. Jo Shapiro, the event aims to showcase an inclusive and interprofessional approach to peer support in the medical field. The presentation is open to all members of the Queen's University Faculty of Health Sciences, including the Schools of Medicine, Nursing and Rehabilitation Therapy and we encourage all to participate in this one-of-a-kind event. 
Dr. Jo Shapiro is an associate professor and chief in the division of otolaryngology in the Harvard Medical School. She launched the Brigham and Women's Hospital (BWH) Center for Professionalism and Peer Support in 2008 and has focused her work on physician wellbeing and care. The mission of the center is to support physicians in providing the best care for every patient.  
***
---
Previous SEAMO Events
SEAMO Physician Wellness Lecture
On Thursday, November 21, 2019 SEAMO held its Physician Wellness Lecture with PSI Visiting Scholar Dr. Liselotte Dyrbye. Dr. Dyrbye is Director of the Program on Physician Wellness at the Mayo Clinic and an internationally recognized expert in the field of physician, resident and medical student wellness.
 
Dr. Dyrbye studies the prevalence, drivers and consequences of burnout as well as mitigating strategies. She co-developed the Physician Well-Being Index, a brief self-assessment tool designed to identify the subset of health care workers in severe distress and most likely in need of individualized interventions.
Date: November 21, 2019
Time: Doors open at 5:00 pm 
Location: Ellis Hall Auditorium 
---
2018 Innovation Showcase 
Click on the names. Presentations will open in a new tab.
Keep checking this space for news about our next event!