The Physician Wellness Advisory Committee has representation from each clinical department, with the aim to identify and make recommendations relating to advancing the wellbeing of physicians. Specifically, the Committee provides guidance to SEAMO, Queen's Faculty of Health Sciences (FHS) & the hospitals for practical opportunities to enhance the wellbeing of our physicians. The committee reports to: Kingston Health Sciences Centre (KHSC) & Providence Care Hospital (PCH) Medical Advisory Committees, KHSC & PCH Executive, SEAMO and the FHS.
This is our Mission, Vision and Strategy for Physician Wellness that will guide our work in the coming years: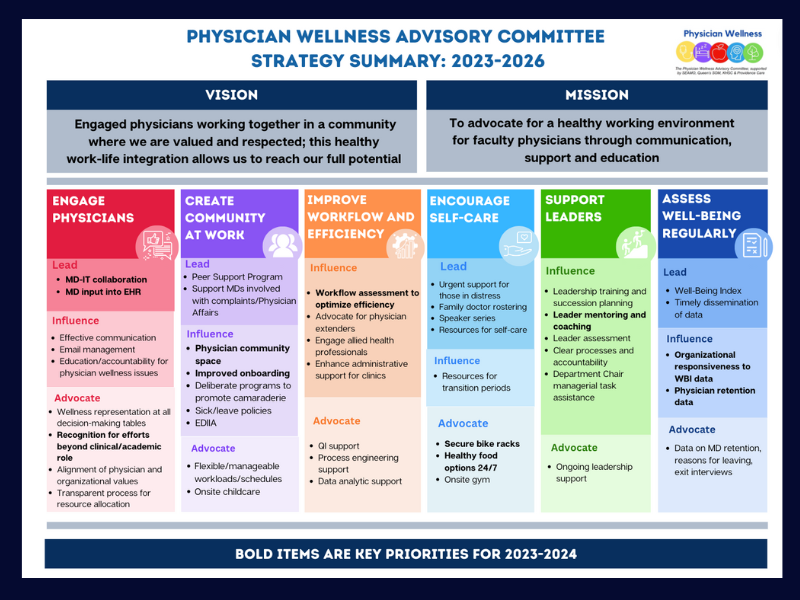 For more details on our strategic initiatives, read the full strategic document.
Feel free to contact us with concerns or thoughts around physician wellness.
See what the Committee is working on that may help improve your wellness!
Read the Terms of Reference for the Physician Wellness Advisory Committee.
See a list of Physician Wellness Advisory Committee members and how to contact them. 
Read the full report on Physician Wellness at Queen's School of Medicine.