Dr. Steven Brooks is an associate professor in Emergency Medicine and cross-appointed to the Department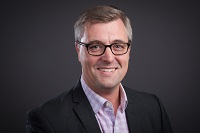 of Public Health Sciences. He is an attending physician at Kingston Health Sciences Centre, where he supervises clinical clerks, observers in medicine, residents in emergency medicine in the Royal College program and the College of Family Physicians program, and off-service residents who are rotating in the Emergency Department (ED) as part of their training in other specialties. 
As a SEAMO-funded physician in the New Clinician Scientist Program, 70 per cent of Dr. Steven Brooks' time is protected research time. "My research work is focused in a few areas – the most important one is cardiac arrest when it happens outside of the hospital. My work in that area focuses on trying to develop and test innovative strategies to increase bystander CPR and defibrillator use," he explains. "Over the course of the pandemic, my research focus needed to shift to COVID-19 in the ED. We had an urgent need to understand more about how best to care for patients with suspected and confirmed COVID-19 in the ED. Since the onset of the pandemic, I have worked with a group of researchers called the Canadian COVID-19 Emergency Department Rapid Response Network to understand the epidemiology of COVID-19 in the ED and optimize patient outcomes."
Dr. Brooks is excited to announce a new initiative starting this month: the Neighbours Saving Neighbours program. "We've been working for years to develop a community volunteer responder program that we're piloting in Frontenac County – this is a strategy to improve our response to sudden cardiac arrest when it happens in our community. The greatest challenge in managing cardiac arrest is that it is very time-sensitive," he says. "The chance of death increases by 10 per cent per minute when CPR is not being done. After a call to 9-1-1, the median delay to ambulance arrival in North America is approximately 6 minutes. In rural and remote areas, this can be much longer. Unfortunately, when cardiac arrest happens, it's not good enough to call 9-1-1 and wait for the paramedics to arrive." Dr. Brooks explains how volunteers signed up to the program can become vital in the process of saving lives during episodes of cardiac arrest: "When a cardiac arrest is happening within 5 kilometres of a volunteer, they will get dispatched along with paramedics. Volunteers will be trained in CPR and equipped with AEDs, so we are anticipating that we will reduce the delay to CPR and defibrillation for people who experience out-of-hospital cardiac arrest. This program will only work if we get enough volunteers. If you are interested in becoming a community life-saver, please go to the Frontenac County website to learn more and volunteer," Dr. Brooks says.
Once cardiac arrest patients arrive to the ED, Dr. Brooks explains that one thing he would like to see less of is the pessimism surrounding unconscious post-cardiac patients. "Within the first 72 hours, we know it's very difficult to predict whether a cardiac arrest survivor is going to recover neurologically and wake up.  It is easy to be pessimistic because survivors are often slow to show signs of brain recover. I think it's important that all of us in the ED and in the ICU caring for these patients remain optimistic and avoid withdrawing care too early, "he says.
Dr. Brooks was recently awarded the 2023 CIHR Mid-Career Lecturer Award in Emergency Medicine has also become the Chief Medical Officer for a company that has invented a miniaturized single-use defibrillator called the CellAED that will retail for approximately $300. "I'm looking to support research on this game-changing technology to explore how it can make a difference."