Dr. Gordon Boyd is an associate professor with appointments in the Departments of Medicine (Division of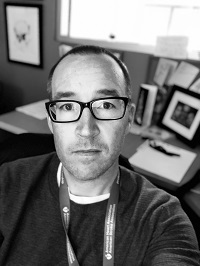 Neurology) and Critical Care Medicine. He has been at Queen's since 2001 when he moved to Kingston to do a post-doctoral fellowship and stayed here for medical school, residency and a fellowship. He is also affiliated with the Queen's Centre for Neuroscience Studies.
In 2013, he was recruited to the SEAMO New Clinician Scientist Program where his split in time is 25 per cent clinical and 75 per cent research. "My clinical work is divided between covering the inpatient acute stroke service and the intensive care unit," Dr. Boyd explains. "As a neurologist and critical care physician, my primary research focus is at the intersection of my two clinical specialties. Specifically, my program of research is aimed at understanding the neurological complications of critical illness." With this scope of work, Dr. Boyd and his colleagues study how oxygen delivery to the brain is associated with acute and long-term neurological complications. "Acute brain dysfunction, called delirium, is a really common complication in critically ill patients, affecting up to 80 per cent of patients admitted to the ICU. Long-term brain dysfunction is also very common with the average ICU survivor having the same degree of cognitive impairment as someone with mild Alzheimer's disease or moderate traumatic brain injury a year after their ICU stay," he describes. One of the best parts of living in a smaller city like Kingston is the chance to collaborate closely with his colleagues on work and research, Dr. Boyd says. "We are also studying how dialysis affects brain oxygen delivery and discovering better ways to quantify brain impairment after heart surgery." 
Dr. Boyd is also very involved in medical education at Queen's. "I have the opportunity to teach medical students, residents and fellows about my clinical and research passions. I teach about neurological emergencies in the ICU, brain death and organ donation, as well as strategies to predict neurological recovery for patients in the ICU. I also have the enormous privilege of supervising graduate students – it is absolutely amazing to be a part of someone's educational journey and sharing in their successes," he says. 
Something Dr. Boyd would like to put focus on is the long-term effects of ICU stays. He says for years, the main focus for ICU trials of new treatments has been 30-day and 90-day mortality and historically, that has been incredibly important work. "Mortality rates for severe sepsis and septic shock used to be 50 per cent and now they are closer to 15 to 20 per cent. I don't want to take away anything from the fact it sometimes seems like a miracle someone can come to the hospital nearly dead and in multiorgan failure and with fluids, antibiotics, fancy machines and a massive team of people we can prevent death and get that person to survive to hospital discharge – that is absolutely amazing," Dr. Boyd explains. He goes on to say the more and more people survive their ICU stay, the more is learned about what it's like to be an ICU survivor. "I run our ICU follow-up program at Kingston Health Sciences Centre (KHSC) so I have the opportunity to interact with people 3 to 6 months after they've left the ICU. In addition to the cognitive impairment individuals have, ICU survivors are at risk for a whole host of new psychiatric disorders such as anxiety, depression and post-traumatic stress disorder. In fact, the rates of PTSD are just as high in ICU survivors as they are in combat veterans returning from active service. While I think it is important to celebrate those big wins when really sick people get better and leave the ICU, I think it's also important to acknowledge this is the start of a very long and difficult journey for them." 
During the pandemic, Dr. Boyd is working closely with other ICU physicians to provide life-sustaining therapy for individuals with severe COVID-19. He explains, "These are individuals that typically can't breathe on their own and need to be put on a breathing machine (ventilator). Things were busy for us in the spring of 2021 when the Greater Toronto Area transferred some of their patients to Kingston. Over a matter of just a few weeks, we went from very few COVID-19 patients to nearly 80 critically ill patients in our ICU that typically only has 34 beds. That was the busiest I've ever been in the ICU." 
One form of therapy enjoyed by Dr. Boyd and a few other SEAMO-funded physicians was playing in their band: Old Docs New Tricks (ODNT). Though the pandemic made rehearsals and concerts difficult, they are just getting back into a place where they can practice and play shows for people. "I'm the drummer for the band and it is such a great stress release to just bang away on my kit. I think everyone needs a way to decompress and I'm really lucky I have a great group of friends with whom I can play music and relax," he says. Other members of ODNT include co-lead singer Dr. Jim Biagi (Medical Oncology), co-lead singer Dr. Danielle Kain (Palliative Care Medicine), lead guitarist Dr. Rachel Holden (Nephrology), mandolin player Dr. Chris Frank (Geriatric Medicine), keyboard player Dr. Mark Ropeleski (Gastroenterology), rhythm guitarist Dr. Gerald Evans (Infectious Diseases), and bass guitarist Dr. David Maslove (Critical Care/Internal Medicine). 
Stay tuned to SEAMO's social media channels for an upcoming event featuring the musical stylings of ODNT!