She's a relatively new face at Providence Care Hospital.
For the last six months, Dr. Jody Timpson has been providing rehabilitative care to patients on Lakeview 1.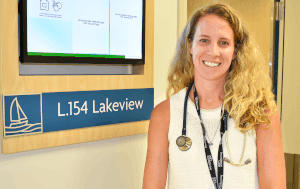 "This is a fabulous team. The administrative, nursing, allied health, and physician staff all work together and always have the best interests of their patients at the forefront," said Timpson.
"These patients can be exceptionally complex with significant care needs and this team rises to every challenge, working and collaborating together."
She's also part of the Division of Hospital Medicine.
As a hospitalist, Dr. Timpson and the division help support care throughout the hospital.
"I love being part of the Division of Hospital Medicine team. It's fabulous to have a group of colleagues, who are providing the same type of care for the people we serve, to collaborate with."
Timpson added the division not only benefits hospitalists, but also the people we serve.
"The division allows for 24/7 coverage of the medical needs for inpatients at Providence Care Hospital. That helps us provide excellent patient care."
Timpson completed her family medicine residency at Queen's University and was certified by the College of Family Physicians of Canada in 2008.
She also attended the University of Ottawa and completed a fellowship in Sport & Exercise Medicine, and has practiced at Almonte General Hospital, Ottawa Family Health Team and Georgetown Hospital.