We are excited to share a new integration which enables physicians to send eConsults to the Ontario eConsult Service on the OTNhub directly from their integrated EMR via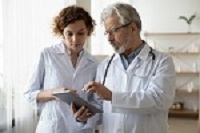 Ocean!
The "Ontario eConsult Service" is now available on the Ocean Healthmap allowing physicians to initiate an eConsult using Ocean to submit through to the OTNhub. 
Why use this integration?
It will save you time by reducing transcription effort
It will enhance patient safety and accuracy of information by enabling the seamless flow of patient information and attachments
It will allow you to submit eConsults using the same efficient and reliable EMR-integrated workflow you already use for sending Ocean eReferrals
Get started today!
Are you already using both the Ontario eConsult on the OTNhub and Ocean eReferral?

Follow your existing eReferral workflow and search for the "Ontario eConsult Service" in the Ocean Healthmap

Using TELUS PS Suite and Ocean?

Update your Ocean toolbar and get started today by clicking the "ON eConsult" button

Need support setting up eConsult or eReferral?
Have questions about eConsult? Feel free to reach out to the SEAMO Digital Health Team at seamo.digitalhealth@queensu.ca! 
Have questions about eReferral? Get in touch with the eReferral Team in the South East by emailing art.dunham@ontariohealth.ca!