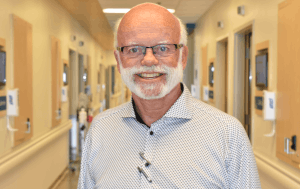 He's been lighting up the halls of Providence Care Hospital and the former Mental Health Services site with his warm smile for decades.
Nowadays you'll normally find Dr. Bill Beck on Heritage 0, as part of the Forensic Mental Health unit.
"It's a great team to be a part of and there's a wide spectrum of patients who need help and care," Beck said.
He's also a member of the newly formed Division of Hospital Medicine.
The division brings together many of the services Providence Care Hospital offers into one group and is made up of 11 hospitalists who help support care for 230 hospital beds.
Beck is one of the hospitalists. 
"I have always found hospital medicine to be the most satisfying and rewarding way to practice medicine," said Beck.
"The transition has worked out very well. It's very collegial and the experience is great because each of us participate in a cross-section of medicine that comprises our collective mission with Providence Care. We gain support and knowledge from each other which broadens our perspectives in our own practices."
Beck, originally from Red Lake, Ontario, studied at the Universities of Waterloo and Toronto, before attending McMaster University for medicine.
He moved to the limestone city in 1984, and has worked in mental health with a number of organizations in the Kingston area including Kingston Health Sciences Centre's Kingston General Hospital and Hotel Dieu Hospital sites.
*Author Nikki Jhutti, Providence Care Communications Officer