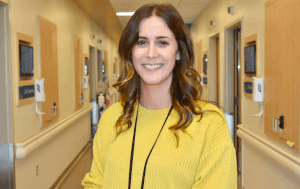 If you've ever stopped by Heritage or Lakeview 2, you may have run into Dr. Catherine Monnin.
She's fairly new to the organization, joining Providence Care Hospital in July 2019.
But she's no stranger to the team.
Monnin spent several months at the hospital completing her Palliative Medicine fellowship.
"I have always enjoyed working in a hospital-setting environment and my experience at Providence Care Hospital was extremely rewarding during both my residency and fellowship," said Monnin.
In addition to providing care for palliative and complex care patients, Monnin is also a hospitalist with the Division of Hospital Medicine.
The division is made up of 11 hospitalists that help support and facilitate care across the hospital.
"The team is comprised of a variety of physicians, all with different backgrounds of experience and expertise," she explained.
"The diversity of opinions and support for each other provides our patients with continuous and holistic care. The team is very welcoming, knowledgeable and unified by strong patient care."
Monnin grew up in St. Boniface, the French Quarter of Winnipeg, Manitoba.
She completed her undergraduate degree at the University of Ottawa in Health Sciences, where she also attended medical school.
Following that, Monnin made the short move to the limestone city to complete her Family Medicine residency.
She attended Queen's University where she received a Certificate of Added Competency in Palliative Medicine. 
We're excited to have Monnin as part of our growing Providence Care team.
*Author Nikki Jhutti, Providence Care Communications Officer