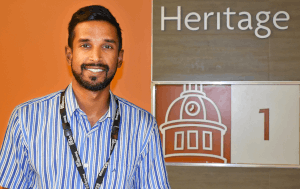 He's one of the newest members of the Providence Care team.
Dr. Romith Naug joined Providence Care Hospital in July, as part of the Division of Hospital Medicine.
The division helps support care across Providence Care Hospital's Complex Medical Management, Physical Medicine and Rehabilitation, and Mental Health programs.
Naug is one of 11 hospitalists who make up the division.
You'll find him mainly providing rehabilitation care on Heritage 1.
"We've got a great group of competent and caring professionals in the division," said Naug.
"We support comprehensive care to patients and their families and coordinate with consultants and allied health professionals to provide the best care possible."
He says he was eager to join the division because it's a promising new field in medicine and Providence Care is a state of the art facility in rehabilitation.
He hopes his skill set will help add to that reputation.
"I'm hoping to bring my acquired knowledge from the Canadian and US hospitals I've worked with to aid my PM&R colleagues with patients that have comorbid medical conditions requiring management in-house, and facilitate emergent transfers or coordinated discharges."
Naug completed his family medicine residency at Michigan State University and was certified by the College of Family Physicians of Canada in 2016.
He's no stranger to the southeast region, having previously worked at Brockville General Hospital and Cornwall Community Hospital.
*Author Nikki Jhutti, Providence Care Communications Officer