eConsults can now be sent to a brand new self-managed heart failure group in the Southeast region with questions being answered by Drs. Aws Almufleh, the physician lead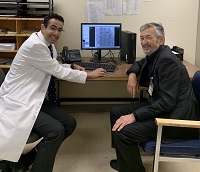 of the Heart Function Clinic, and Dr. Hoshiar Abdollah, a senior physician and educator. Dr. Almufleh says "treatment options for heart failure are rapidly expanding and can be difficult to navigate. The heart failure management eConsult service provides the referring providers with advice and guidance on diagnosis, treatment and follow-up for patients with heart failure."
Dr. Almufleh also assures no question is too complex for this service. "If you have questions on how to rule out heart failure in patients with shortness of breath or how to optimize treatment for patients with known heart failure, eConsult can address these questions and provide you with timely responses. If we deem patients to require in-person consultation, we will indicate that in our response," he explains.
Here are four example questions about heart failure patients Dr. Almufleh says can be answered using eConsult:
Should this patient be on sacubitril/valsartan (Entresto)?
My patient is short of breath and their echo shows normal LV systolic function; could my patient have HFpEF?
My patient has preserved ejection fraction, but is severely symptomatic; what medications should I start him on?
My patient has a new diagnosis of heart failure with reduced ejection fraction; when should I order a stress test to rule out ischemia?
Dr. Almufleh describes the way this new service will support primary care providers: "We recognize our colleagues, the family physicians and nurse practitioners, are stretched too thin and have to manage many comorbidities of their patients, including heart failure. The eConsult service provides timely guidance and support to family physicians to help them navigate the work-up, diagnosis and treatments of patients with heart failure," he says. "We will be reviewing the eConsults we receive periodically to help us plan educational events for family physicians and build a 'Frequently Asked Questions' document which will be shared with all our colleagues in Family Medicine." 
To send an eConsult to this group:
Login to eConsult
Launch eConsult
Request eConsult
Select 'Specific Provider or Group'
Search for 'South East Heart Failure Management'
Type in the particulars of the patient, the request, and select 'Send'