For Dr. Laura Gaudet, one of the best parts of her job is helping families on their journey. She is a clinician scientist in the Department of Obstetrics and Gynaecology and a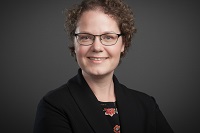 specialist in maternal fetal medicine, meaning she cares for pregnancies that are complicated by maternal or fetal health concerns. She is also a clinical epidemiologist where she conducts and participates in various obstetrical research projects. Dr. Gaudet supervises graduate students, medical students and residents who are pursuing their own research projects as well. 
As a SEAMO-funded physician, Dr. Gaudet participates in research, teaching and clinical practice. Her research interests lie in optimizing both the delivery and the experience of maternity care provision to vulnerable populations. "I study best practices around prenatal and intrapartum care for pregnancies complicated by obesity, weight bias and stigma, and the impact of cannabis and opioid use on pregnancy outcomes and placental form and function," she describes. "Research gives me the opportunity to be curious, to solve problems and to connect with patients and other researchers who have similar interests. Studying vulnerable populations allows me to meet such interesting and dedicated people, who all want to make a difference in the lives of those who need it most."
In teaching, Dr. Gaudet says she tries to find a balance between trying to teach necessary information and following the students' own interests. "Pregnancy and birth affect everyone's lives, directly or indirectly, so it seems we can always find common ground. My students push me to think critically and to continue to expand my knowledge. I always look forward to the next question they ask," she explains.
Dr. Gaudet's clinical practice is broad, she says, as she cares for a variety of medical and psychological conditions in pregnancy, ranging from common and predictable to unusual and emergent. "One of the best parts of my job is the people I work with – other specialists, family doctors, midwives, nurses, ultrasound technologists and social workers, among others. All of my patients benefit from having a whole team providing care and comfort to them."
For the most part, Dr. Gaudet agrees with the assessment she receives from others most often: she must have the happiest job in the world. Her specialization in maternal fetal medicine also means outcomes of all kinds. "It's incredibly fulfilling to see a family welcome a healthy baby, particularly when the road to that delivery isn't straightforward. Inevitably, as a "high-risk obstetrician", my patient's pregnancies don't always have a happy ending. The most challenging part of my job is managing the extremes of my own emotions that occur, sometimes in back-to-back patients," she says. "Even in the most difficult moments, though, there is satisfaction in helping families on their journey."
With all the seriousness of her job, Dr. Gaudet realizes she needs balance. This comes in the form of the support from her husband and family and their family farm. "It's mainly sheep, but also two donkeys, three cows, two goats and a flock of chickens. The fibre from our Rambouillet sheep and our Angora goats is spun into yarn. This process, along with seeing the yarn made into finished products like blankets and scarves, gives me a creative outlet that simply warms my heart!" 
In the future, Dr. Gaudet hopes to see a focus in her specialty on inter-professional and collaborative care teams. "I hope prenatal care evolves to meet the needs of both healthy, low-risk pregnancies and higher-risk situations. I hope to see more intersection between midwifery, family doctors, obstetricians and maternal fetal medicine specialists, all of whom could be better supported by allied health services like psychology, physiotherapy and lactation consultants," she explains. 
Finally, I hope to find new ways to ensure all children and their families have the best start possible in life, beginning with pregnancy and continuing throughout childhood."