The Ontario eConsult Program partnered with Correctional Service Canada (CSC) in September 2018 to improve access to specialist care for the inmate population. With approximately 7,700 adults in custody at the province's eight federal facilities, the goal of the initiative was to increase equity and timeliness of care, reduce patient transfers out of correctional facilities, decrease costs, and increase safety and security.
At least one physician and delegate team is registered at each CSC facility in Ontario. In the first 100 days of 2019, eConsult usage by CSC physicians grew by 333% over the last 100 days of 2018. Between Jan. 1 and Jun. 13, 2019, a total of 59 eConsult requests were sent to managed service groups. The top three most requested specialties for CSC providers are: 
Dermatology (34%)
Cardiology – Electrophysiology (20%)
Hematology (10%)
Health Services account for approximately 11% of CSC's total direct program spending. In 2015-16, Statistics Canada reported institutional health care accounted for approximately 94% of CSC's total $240M health care budget. Approximately 5% of all inmates visited the emergency department during their incarceration, 3% were admitted to a community hospital, and 10% were admitted to a regional hospital. A large proportion of persons in custody use prescribed medications, in particular psychotropic medications, which can be costly.
eConsult can help offset costs by improving access to specialist care for CSC patients by connecting providers with timely advice for treatment and, often, removing the need for an in-person appointment with a specialist. This also reduces the need for patient escorts to community clinics and hospitals, which can be a staffing challenge for CSC facilities.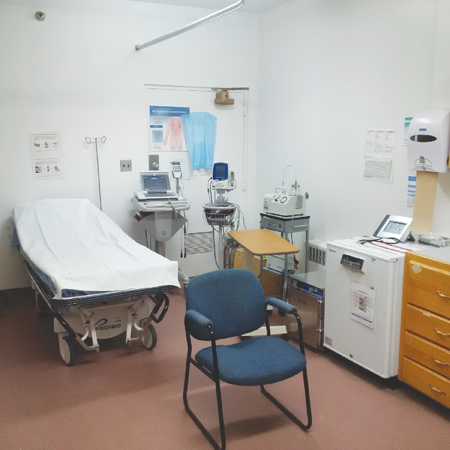 Infectious diseases
Tuberculosis is relatively common in persons in federal custody, at 22.4 active cases per 100,000, compared with 4.6 per 100,000 in the general population. About 30% of those in federal facilities have hepatitis C. Between 1-2% of men and 1-9% of women have HIV. STDs are also common, with a 2007-08 study showing chlamydia, gonorrhea and syphilis to be most common. 
Special populations
Women account for 6% of all federal inmates, while people of Indigenous background make up approximately 23% of those in custody. Recent Canadian-based research has demonstrated there is also an aging, and increasingly chronically ill population behind bars, with approximately 29% of offenders aged 50 or older. All have unique health care needs. 
According to a 2017 Audit of Physical Health Care Delivery to Inmates, women in custody most often require treatment for infectious diseases, back pain, high blood pressure, asthma, menopause, cardiovascular disease, head injuries and mental health conditions. 
Female Indigenous inmates suffer from diabetes, central nervous system disorders, infectious diseases, ulcers, cardiovascular disease and mental health conditions, while male Indigenous inmates suffer from central nervous system disorders, infectious diseases, cardiovascular disease, head injuries, and mental health conditions. 
Among the older incarcerated population, treatment is most often sought for infectious diseases, cardiovascular system conditions, angina, diabetes, cancer, musculoskeletal conditions (i.e. back pain, arthritis, etc.), high blood pressure, high cholesterol and prostate issues (men). 
Of all inmates who died in custody of natural causes between 2009-10 and 2015-16, 91% were age 45 and older. Approximately 50% were receiving palliative care at time of death. The average age of death from natural cause was 60. A list of illnesses contributing to those deaths includes: 
Cancer (36%)
Cardiovascular disease (29%)
Respiratory issues (10%)
Liver problems (9%)
Infection (9%)
Neurological (5%) 
For male inmates, the most common reasons to seek treatment include back pain, asthma and head injuries. The audit found 34% of male offenders self-reported head injuries and a review of health files found 2% of offenders had evidence of recent brain injury.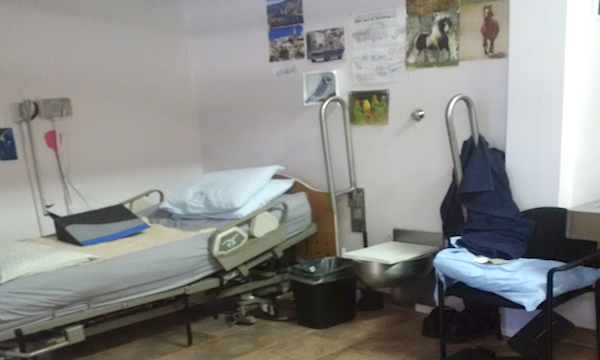 Mental health
A search of quantitative studies of health conducted between 1993 and 2014 found most of those in correctional facilities have mental disorders as defined by the Diagnostic and Statistical Manual of Mental Disorders. A large number also report previous hospitalization for psychiatric illness. About half of those in federal custody receive some treatment for mental illness while incarcerated.
Recent CSC research found almost 80% of incarcerated women meet the criteria for a current mental health condition. The highest prevalence rates were for lifetime alcohol and substance use disorders (76%) and current anxiety disorders (54%). Prevalence rates were also high for Post-Traumatic Stress Disorder where nearly one-third of all women met the criteria. Also common were a lifetime prevalence of antisocial personality disorder (83%); experience of a major depressive episode or a type of mood disorder.
Self-inflicted injuries among federally sentenced women nearly quadrupled in a decade, to 305 in 2018 from 78 in 2008. It is important to note that the 305 incidents in 2018 involved 60 different women, of which 31 were Indigenous. Twenty-two percent of female offenders attempted suicide prior to being admitted to CSC.
In 2013, 63% of women in federal custody were using prescribed psychotropic medication.
For male inmates, the most common mental health conditions are antisocial personality disorder (44%), anxiety disorders (30%), mood disorders (17%), and major mental illness (12%), which includes major depressive disorder, bi-polar I and II disorders, or any psychotic disorder.
 
Indigenous males had higher rates of personality disorders compared to non-Indigenous males, with the most pronounced differences being antisocial personality disorder (60% and 40% respectively) and borderline personality disorder (22% and 14% respectively). 
It is worth noting that 91 of the 254 inmates whose deaths were classified as "non-natural" at federal facilities between 2009-10 and 2015-16 had an identified mental health disorder. 
To learn more about providing care to patients at CSC facilities using eConsult, contact Lacey Cranston by email or phone 613-533-6000 ext. 75963.