January is Alzheimer's Awareness Month in Canada and Dr. Stephen Ryan from the Department of Medicine says everything starts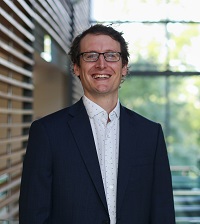 with awareness. "Advocating for change, enhancing services, fighting stigma, all of these things are important and more. It is even more important that awareness be brought to areas where patients may not be able to advocate for themselves. Certain illnesses are more externally visible or in the public eye more, and Alzheimer's and dementia can sometimes be a little out of sight, except to those patients and families living it every day," he says. 
Dr. Ryan is appointed as a cognitive and behavioural neurologist, mostly assessing patients with neurodegenerative conditions. "This clinical specialty involves administering and interpreting mental status examinations and understanding the anatomical and neurochemical basis of cognition, emotion and behavioural disturbances," he explains. "I trained in general neurology in Ireland before undertaking sub-specialty training in cognitive and behavioural neurology at Sunnybrook Health Sciences Centre in Toronto. At Queen's University, I provide targeted specialist outpatient clinics offering comprehensive neurologic and cognitive assessment in addition to supporting outreach memory clinics via telehealth virtual support. 
What people should know about Alzheimer's disease is it is the most common cause of dementia and one of the leading sources of morbidity and mortality in the aging population. "We now know there is a long pre-symptomatic period between the onset of biochemical changes in the brain and development of clinical symptoms of Alzheimer's disease. Longer term epidemiologic studies will properly assess the gene-lifestyle environmental determinants of neurodegeneration, but if you are in your 30s, 40s, 50s and wondering what to do, say if you have a family history of Alzheimer's disease, it makes total sense to adopt lifestyle changes now rather than waiting," Dr. Ryan describes. "Exercise more, eat a healthy diet, sleep well and stay socially active and engaged. Watch your blood pressure and avoid toxins like smoking and excess alcohol." 
Dr. Ryan also wants people to know the misconception that dementia is just a part of getting older is incorrect. "Whilst aging is a risk factor for these conditions, it is not a natural part of getting older. If we take steps to manage risks, we can improve outcomes and prevent disease," he says. 
Physically active individuals have lower incidence and prevalence of cognitive decline and dementia, according to Dr. Ryan. "Patients and families often focus on 'brain training' apps or puzzles; at present, there isn't evidence to support the notion that 'brain training' programs have benefits beyond the short term. However, having things that actively stimulate you, that you enjoy doing and will repeatedly engage with makes sense," he says. "We also know people with higher levels of education have a reduced risk of dementia, or at the very least, a later onset of symptoms. This probably reflects a higher cognitive resilience to changes that are occurring rather than providing a protective effect against the accumulation of amyloid and other proteins we see in these conditions." 
Those who are dealing with Alzheimer's should lean on friends and family, says Dr. Ryan. "At a practical level, it may involve many things like developing a strong daily routine, some additional checks and supports around you and simply being open to accepting help from others. An illness never defines a person so it is about making the absolute most of every day – which, when you think about it, is what we should all be doing anyway!"