In early December, CTAQ held a virtual election for a Member-At-Large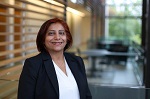 position on SEAMO's Governing Committee. We had ten candidates vying for the role and after 196 votes were cast, Dr. Sonal Varma from the Department of Pathology and Molecular Medicine emerged as the winner. 
Dr. Varma has been with SEAMO for the last seven years since she started at Queen's as part of the clinical faculty. Dr. Varma's areas of specialty are breast, GI and soft tissue/bone pathology. She has experience as president of the KHSC Medical Staff Association (MSA) and as part of the Medical Advisory Committee (MAC). She has also attended the past two SEAMO retreats and is ready to jump into this new role effective immediately.
Dr. Varma said her goal in the position is to fairly represent physician concerns and stressors to bring about policy changes. "I would also like to get a more comprehensive understanding of various aspects of the workings of SEAMO to be able to provide optimal bi-directional contribution to both CTAQ and SEAMO," she said. 
"'Don't judge each day by the harvest you reap but by the seeds you plant.' This is my way of getting more involved, making some meaningful contributions and in doing so, advancing our collective vision," she said.
Winning this election has given Dr. Varma a strong sense of community, she said. "It was overwhelming to see so many of the members participate and put their confidence in me. This was particularly profound from my individual standpoint because Pathology interactions to the direct patient-caring specialties can be limited to a small clinical group. With this gratitude also comes responsibility, and I hope to be able to do justice to this confidence in the coming years."