Physician wellness is a top priority not only for SEAMO, but for our partner institutions as well.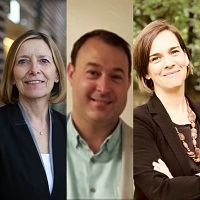 Members from the Queen's School of Medicine, Providence Care and Kingston Health Sciences Centre meet with the Physician Wellness Advisory Committee monthly, but they are also responsible for initiatives in their individual organizations.
Dr. Leslie Flynn, professor of Psychiatry and Chair of the Physician Wellness Advisory Committee, says wellness is so important to the Queen's School of Medicine, it was built into the 2017-2021 Strategic Plan. "It was a specific goal to create a culture of wellness. I have been very involved in that and feel proud of the work that's been done," she says. "We have met all the expectations: to do a needs assessment, we looked at the state of affairs for our students, faculty and residents and we published that report. We started a Committee for every clinical Department in the School of Medicine and we've been able to identify what needs to be done, including having every physician rostered with a family physician." Introducing a peer support program was also part of the Strategic Plan and that has been created. In the future, the only thing the School of Medicine still has to work on is guidance throughout the career trajectory, which is in progress now. 
Dr. Flynn has been involved in delivering care to physicians since 1995. "Wellness isn't equivalent to happiness, it's about wellbeing. As physicians we're good at thinking about disease and disability and we learn a lot about that, but we learn less about what it takes to be a person who's well and the elements that are a part of it are associations, social connections, a belief system that you're contributing in a meaningful way," she says. "It's the developmental process in your career path that you have direction and purpose and gratification for contributing in a meaningful way that you have a richness in your life." 
Allison Philpot, Director, Medical Administration at Providence Care, says achieving physician wellness isn't a straight-line process; rather it's a piece-by-piece process where it's needed. "For instance, we implemented a major change to our electronic patient record that now allows Hospitalists to enter billing codes as work is completed. This was extremely well received by that group, but wouldn't apply to our on-staff psychiatry group, for example," she says. "We work to make Medical Administration an attentive, approachable, dedicated and proactive department. Where needed, we proactively reach out to physicians if there is identified distress. We embed wellness into our MSA, SLT and MAC agendas and include physicians in obvious wellness initiatives like Achievement Awards and holiday celebrations." 
Philpot says physician wellness means better resident, client and patient outcomes, and ultimately, everyone at Providence Care comes to work for this one goal. "Physician wellness is one very important dynamic in achieving that goal, and so it is one of our priorities at our organization in an ongoing fashion. It's a continuous effort that we won't be looking away from as long as we have people to serve," she says. "To me, physician wellness means that our doctors feel supported, happy to come to work and pleased to be a part of our system that extends from wall to wall and out into the community." 
Chris Gillies, Chief of Medical & Academic Affairs at Kingston Health Sciences Centre, says the hospitals have been invested in physician wellness for at least eight years. "When I'm aware a physician is having an issue with wellness, I refer them to the Ontario Physician Health Program or a psychiatrist. It's not new, we've formalized physician wellness efforts with our partnership with Providence Care, the Faculty and SEAMO and the Physician Wellness Advisory Committee," he says. "We've been focusing on physician wellness, but it was always in a reactive position. The advantage of having a partnership allows us to be more proactive in addressing physician wellness." 
Gillies says there is no hospital without physicians. "If our physicians aren't well, that has a domino impact on providing care, on the care team. If one physician has wellness issues, someone has to take over and we start burning out people and there's limited resources. Physicians aren't the best at taking care of their own health, so we need to put it front and centre and they need to be well and have avenues to go through," he says. "Physician wellness is people taking their time to do the things to make them well, it's about finding the right balance."