Like all other SEAMO Departments, the Department of Family Medicine has a mix of clinical services,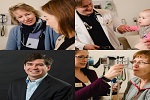 education, and research activities. Unlike some of the other Departments, Family Medicine physicians complete their work all across the southeastern region. 
"We have the Queen's Family Health Team (QFHT) in Kingston, which has close to 20,000 patients," says Department Head Dr. Michael Green. "Twenty-five of our faculty, some part-time and some full-time, work at that location. We also have a second QFHT location, in Belleville, which has 13,000 patients."  
Recently, the Department has opened up a hospitalist division that has family doctors providing care for patients at the Providence Care site. On the education side, the Department of Family Medicine has the largest residency program at Queen's University. "We have 150 first- and second-year residents per year. We also have 770 adjunct faculty who teach our residents all over Ontario. It's a largely-distributed education program to train family doctors for the future," Dr. Green says. 
Not only does the Department have regional education for its residents in the Kingston-Thousand Islands site, there are three other sites across the region including (1) Peterborough-Kawartha; (2) Belleville-Quinte; and (3) Bowmanville-Oshawa-Lakeridge. "There are so many learners that if you go anywhere in southeastern Ontario to see a family doctor, they are likely linked to Queen's as either a student or a teacher," Dr. Green says. "Our Department is so much more than a building. The huge number of community faculty makes us quite different from the Kingston-based Departments."
People might think of family medicine solely on the clinical side, but Dr. Green says research is a vital component of the Department. The Centre for Studies in Primary Care (CSPC) is the department's research arm, conducting research activities in areas relevant to chronic disease surveillance and management; population health and health promotion; family medicine education; assessment of clinical evidence for practice; and community needs such as the development of projects that support healthy aging in the home, and improving primary care for those living with intellectual and developmental disabilities. "The Department also hosts the central office of the Canadian Primary Care Sentinel Surveillance Network (CPCSSN) at Queen's University." 
During the COVID-19 pandemic, Dr. Green says he has been pleased to see his Department's seamless shift to virtual care. "There's been a big adoption of virtual care and teaching and a big transition of all of our programs to virtual education. In our undergraduate courses we have MEDS 115 and we saw the reviews from the students that the teachers did a great job going virtual," Dr. Green says. "It's been a huge change, online teaching and switching care over to virtual but also figuring out how to do the in-person safely. For the people of Ontario, no one wants to have to go back to in-person all the time. We're already quite open for in-person visits where if we need to see someone, we do, so we're half and half with in-person and virtual." To read more about the shift to virtual primary care during the pandemic, check out Dr. Green's findings in the Canadian Medical Association Journal. 
Dr. Green says he is most excited to see the Department's growth and development this year. "In February 2020, the Ministry of Health and Long-Term Care approved an addictions medicine position for the Department. This position will involve clinical work managing patients with addictions medicine-related disorders at Kingston Health Sciences Centre (KHSC) and will provide an opportunity for capacity development for family medicine residents and addictions medicine education." Dr. Green is also looking forward to being part of the new Frontenac, Lennox and Addington Ontario Health Team (FLA OHT). "I'm excited about the development of our role in the Ontario Health Team because strong primary care leadership is going to make a difference in Kingston — better care pathways to make wait times shorter for the OHT." 
For more information about the Department of Family Medicine, please visit their website.