The Department of Physical Medicine & Rehabilitation (PM&R) is based out of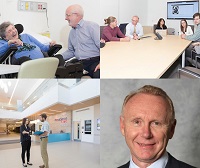 Providence Care Hospital (PCH), where its clinics account for over 75 per cent of all medical outpatient clinical work. This includes specialty clinics such as neurorehabilitation, musculoskeletal injury, spasticity management, limb amputation rehabilitation service, and electrodiagnostics.  
Department Head Dr. Stephen Bagg pointed out a majority of patients admitted to the hospital are at some point treated by someone from PM&R. "Even though PCH has 270 beds, more than half of all patients admitted each year are cared for on one of our two 30-bed rehabilitation units." 
The Department is made up of six full-time equivalent positions funded through SEAMO, with eight physiatrists sharing the funding for these positions, while three physicians are compensated for part-time work. "We also have Dr. Gavin Shanks, a senior member of the team who provides additional part-time work that is funded on a fee-for-service basis," Dr. Bagg explains. "We are very fortunate to have him contributing to our outpatient clinical and educational deliverables."
A physiatrist is a physician who specializes in physical medicine and rehabilitation. Their clinical expertise includes the assessment and management of a large number of neurological and musculoskeletal injuries and diseases affecting a person's functional independence. "The two rehabilitation units provide an opportunity for individuals to recover from a number of life-changing conditions including stroke, spinal cord injury, brain injury, limb amputation, as well as pelvic and lower limb fractures, joint replacements and patients who have become severely deconditioned after a prolonged hospitalization in Kingston Health Sciences Centre (KHSC)," says Dr. Bagg. He also notes one of the key roles of the physiatrist is to lead the interdisciplinary teamwork that is essential in rehabilitation. "We collaborate with the hospitalists, nursing staff, physiotherapists, occupational therapists, social workers, and speech language therapists in order to optimize the functional recovery, not only physically, but also socially and emotionally, for our patients."
PM&R makes a significant contribution to Queen's University's undergraduate medical education (UGME) program. Under the leadership of Dr. David Ruggles, who is the UGME leader, the Department supports the musculoskeletal and neuromuscular services. "Our residency training program attracts excellent students from across the country and we are pleased to see several Queen's medical students apply to PM&R resident training programs each year," Dr. Bagg says. "In fact, approximately 30 medical students apply each year for the one available position. Our program has become popular in large part due to the leadership provided by our residency training program director, Dr. Sussan Askari, our competence-based medical education (CBME) leader, Dr. Jessica Trier, our educational consultant, Ms. Tessa Hanmore, and of course our extremely supportive administrative assistant, Ms. Heather-Ann Thompson."
In terms of what the future holds, Dr. Bagg is most excited the Department is expanding from six to eight full-time positions. One of the two new positions will be a clinician scholar, with 50 per cent protected time for research. "With a larger pool of physiatrists to share the clinical work, some individuals in the Department will be able to spend more time focusing on scholarly endeavors. Our research activities are as diverse as the specialty," he says. "I will emphasize most of our research projects have been collaborative and we are looking forward to expanding our collaborative research endeavors as we expand our Department size."
Like most other Departments, during the pandemic Dr. Bagg says PM&R expanded their provision of digital technology, including electronic consults, telemedicine and telephone follow-ups. "In fact, the majority of our initial outpatient neuro-rehabilitation assessments are now carried out virtually, in order to minimize the need for patients to arrange transportation to our outpatient clinic," he says. "I would like to acknowledge the strong leadership and support provided to PCH from Dr. Ben Ritsma, the PM&R program clinical leader." Dr. Bagg says the Department has also continued to provide weekly physiatric consultation support to the stroke rehabilitation service in Brockville and the amputee rehabilitation service in Belleville. "Additionally, in order to support our regional acute care hospitals during the pandemic surge, 10 unconventional beds were added to our existing 60 inpatient rehabilitation beds. This essential support was provided not only to KHSC, but we also accepted patients in transfer from Ottawa, Belleville and Peterborough during the third wave of the pandemic." 
To learn more about the Department, please visit their website.