Kingston hospitals are planning for patient transfers from out of region in the coming weeks.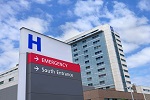 Renate Ilse, Kingston Health Sciences Centre (KHSC) VP of Patient Care, said KHSC already works with hospital partners to provide complex-acute and emergency care and consultation to physicians, patients and families when their specialized services are needed, and they will continue to do so in the context of addressing the COVID-19 challenge.
"To help address the pressures on hospitals in areas of higher prevalence, KHSC and Providence Care are preparing to accept patient transfers as part of the 'Team Ontario' approach to meeting the needs of patients and families throughout the province. We are actively working with partners to increase our inpatient and critical care capacity in preparation to care for these patients safely if and when we are asked to do so."
"We know we have a big role to play to help address the increasing pressures on the provincial healthcare system. Providence Care is supporting acute care hospitals not only regionally, but also across the province by creating more capacity to admit additional post-acute patients," said Cathy Szabo, Providence Care President & CEO. "By freeing up beds in intensive and acute care settings those healthcare facilities are in a better position to accept patients from COVID-19 hotspots. We are all in this together and by teaming up, we ensure everyone, no matter where they are from, has access to high quality care."
For more information, please check out Jane Philpott's blog post on patient transfers co-written by David Pichora (President & Chief Executive Officer, KHSC); Cathy Szabo (President and CEO, Providence Care); and Kieran Moore (Medical Officer of Health, KFL&A Public Health).