The Southeast Regional eConsult team wishes to announce a new Southeast BASE group for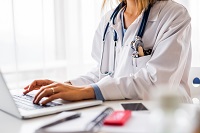 questions regarding thrombosis. Dr. Kerstin de Wit will lead the eConsults for this group. To send an eConsult to this group:
Login to eConsult
Launch eConsult
Request eConsult
Select BASE Manage Specialty
Ensure your Region is set to 'South East'
In the Specialty dropdown list select 'Thrombosis'.
Type in the particulars of the patient, the request, and select 'Send'.
What is eConsult? It is a secure web-based tool allowing physicians or nurse practitioners timely access to specialist advice for all patients. It often eliminates the need for an in-person specialist visit. They are patient specific, clinical questions. Specialists will respond in less than seven days.