Dr. Nadine Morrison-Levy has been a full-time assistant professor in the Department of Pediatrics for the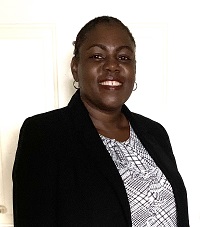 past 18 months. Her specialty is pediatric neurology, with a sub-specialization in pediatric epilepsy. She graduated from the University of the West Indies in Jamaica and completed her residency training and a Master's degree in epidemiology at the same institution. She has also completed fellowships in pediatric neurology and pediatric epilepsy at the University of Toronto and the University of Ottawa. 
"My clinical focus is managing pediatric patients in general neurology and patients with drug-resistant epilepsy, both inpatient and outpatient at Kingston Health Sciences Centre and in the wider community served by this region," she says. 
Dr. Morrison-Levy's research interests involve exploring target therapy for children with drug-resistant epilepsy, especially in patients with genetic etiology. "Another research interest I am currently engaged in is educational interventions for medical trainees in an approach to managing common neurology diagnoses in Pediatrics," she explains. To this end, Dr. Morrison-Levy is the recent recipient of two funding grants from SEAMO: one to attend the Harvard Training to Teach in Medicine program and one to attend the Queen's University Master of Health Professions Education program. 
Dr. Morrison-Levy's commitment to her patients and to her fellow educators at Queen's is apparent in her hopes for the future of the field of pediatric care and research. "My hope is that medical trainees will have a good foundation in the management of common neurological conditions in pediatric neurology," she describes. "This I hope to achieve by engaging in different educational intervention research programs at present and in the future." 
One thing Dr. Morrison-Levy wants people to know about her practice is: "I enjoy caring for my patients!" That is why she says she is not characterized by the colour of her skin. She explains, "I deem this an honour to be working at this prestigious institution; however, I believe when you know who you are, the colour of your skin does not define you. I am confident in my work and worth and I give my best daily." 
According to Dr. Morrison-Levy, it is crucial to celebrate Black History Month in February. "As a Jamaican, our view of Black History Month is embedded in the rich culture of my country and celebrating the milestones of those who have gone before us," she says. "I believe it's excellent to highlight the culture and achievement of Black people internationally as this brings about inclusivity and adds variety, which is the spice of life. There is strength in diversity."