Dr. Karen Smith, professor and clinician in the Department of Physical Medicine & Rehabilitation (PM&R), has been practicing in Kingston and Queen's University since 1994. Her clinical and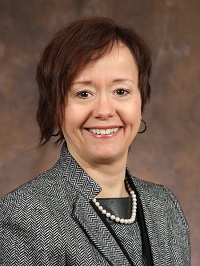 research focus is brain and spinal cord injury prevention and rehabilitation. "My clinical activities are mainly in rehabilitation for patients with neurotrauma and neurological diseases, acquired brain injury, spinal cord injury, and neuromuscular conditions like muscular dystrophy. I provide inpatient and outpatient rehabilitation services and am part of a collaborative clinic out of Providence Care Hospital (PCH), called the Adult Neuromuscular Clinic. We work to improve the lives of those with neuromuscular diseases," Dr. Smith explains.
The physician works on preventing brain and spinal cord injuries before they happen, but if they do, she works to rehabilitate patients until they are in a better state. "Patients with severe injury go through the inpatient program first at Kingston Health Sciences Centre (KHSC) and then PCH and we follow them as long as necessary through our outpatient programs, coordinating their rehabilitation and addressing the consequences of injury," she describes. According to Dr. Smith, despite where Canada and Queen's stands with advanced medical and surgical care, prevention remains the only cure for both brain and spinal cord injury. "We put a lot of effort into concussion awareness, but we should put as much effort into concussion prevention," she says. "It's not about not being active or playing sports, it's about doing it safely. The work on injury prevention is key. It's been exciting to work with Allan Champagne and the students of CESAP (Concussion Education Safety and Awareness Program) to advance the efforts in concussion prevention."
Injury prevention has been a passion of Dr. Smith's for decades. "I've been Co-Chair of ThinkFirst Kingston Chapter for over 20 years now. ThinkFirst's mission is to prevent brain and spinal cord injuries through education, research and advocacy aimed at healthy behaviour of children and youth. We work with students from Queen's School of Kinesiology in community work, and in 2021, they conducted a study that found 30 per cent of students don't wear a helmet while biking. Some of the reasons they don't wear a helmet are modifiable, like where to buy in Kingston and how to fit one. With this and other findings, we can direct our efforts to improve bike and helmet safety locally." 
She's also part of an ECHO project, which stands for extension of community healthcare outcomes. She participates in the skin and woundcare ECHO. Recently with the pandemic, the blended program had to pivot to all virtual. Even the teaching sessions for learning psychomotor skills, a developing area of education research, moved to an online platform. "My other research is mainly in the area of spinal cord injury and health service delivery, such as providing disability expertise in primary care. I've been privileged to work with Dr. McColl on the Actionable Nuggets, which are an educational tool to help primary care providers provide optimal care for their patients with spinal cord injury."
Dr. Smith says she is pleased to see others are just as committed as she is to brain and spinal cord injury prevention. "I don't think there's one patient who would wish for a brain or spinal cord injury, so part of my job is to put myself out of business." 
For more information about ThinkFirst, please visit their website.