After 49 years working at Queen's University in the Department of Pathology and Molecular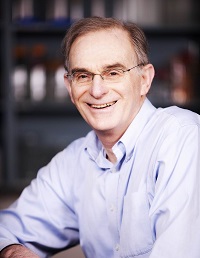 Medicine, Dr. Paul Manley is retiring in 2022. A specialist in translational aspects of gastrointestinal pathology, Dr. Manley came to Queen's and Kingston General Hospital from California in July 1973 as a lecturer in anatomic pathology. "I had graduated from the University of Toronto medical school in 1967 and then interned at Montreal General Hospital, but had no interest in visiting Queen's or Kingston then or in the future," he shares. "It was only during my interviews I became aware of the attractions of our Department of Pathology – the collegiality, the focus on sub-specialty expertise (I was to be the sole expert in GI and hepatopathology at KGH), an excellent head in Dr. Nathan Kaufman and several very successful basic researchers."
Dr. Manley has kept busy in both his research work and in leadership responsibilities over the years. "Over my 49 years in Kingston, I initially focused on enhancing my GI expertise and then developing a several-year research program on prostate-specific antigen (PSA). In my mid-career, I increasingly became involved in Departmental administration and was Director of Laboratories from 1987-2002 and Head of the Department of Pathology from 1991-2002," he describes.
Seeing the growth in his field has been one of the highlights of his time in Kingston, says Dr. Manley. "Between 1987 and 2002, the Kingston Laboratories became sub-specialty focused and equipped with state-of-the-art processors. Faculty and staff at KGH and HDH finally became totally integrated and consolidated at KGH in the mid 1990s within a redesign of the entire clinical labs managed in-house," he says. "We became the most efficient academic clinical laboratory in Ontario, enhanced our sub-specialty expertise and offered these strengths to a broadened region from Peterborough and Oshawa in the East to James Bay and Perth-Smiths Falls and Brockville through a regional laboratory testing and consultation service which became Ontario's premiere regional laboratory program."
During the same time, Dr. Manley says the Department's basic science researchers became even more successful. "By the late 1990s, several researchers had achieved international acclaim and had won more University Excellence awards than faculties in any other University Department. We were able to expand and improve our research space in Botterell Hall on campus, at KGH, and in a completely renovated Richardson Laboratory and were also able to endow funds to support research and education," he says. "We were also granted a contract by the NCI CTG for tissue acquisition and processing and expanded it into a facility providing a variety of pathology services, predominantly to other Queen's researchers."
"I'm especially pleased we were able to give some of our technical staff the freedom, encouragement and tools to become the Canadian experts in specialized technical areas, such as plastination and specimen photography, and that we evolved an extraordinarily cooperative communal collegial relationship amongst our faculty members," Dr. Manley explains. "I'm delighted the Department's values and its excellent interrelationships have continued, that we have grown even stronger in our sub-specialty expertise and our regional lab integration and our residents have been so successful".