March 26 is Purple Day, honouring epilepsy research. Two Queen's professors are making great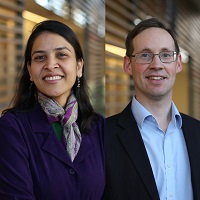 strides in their work towards this area. 
Dr. Garima Shukla has been at Queen's for a little less than three years and specializes in epilepsy and sleep medicine. "In epilepsy, my specific areas of research are the epilepsy and sleep interface, epilepsy comorbidities and non-seizure outcomes," she says. Having worked in this area for two decades, first at the All India Institute of Medical Sciences in New Delhi, India, then at the Cleveland Clinic in Cleveland, Ohio, Dr. Shukla's publications feature "work on sleep quality in patients with well-controlled epilepsy with anti-seizure medications vs. 'difficult to treat' epilepsy and psychiatric comorbidities in those patients. An extension of this work was focused on assessing the impact of sleep quality on cognitive performance among epilepsy patients," she says. Currently, Dr. Shukla is investigating the impact of cannabis intake on sleep among epilepsy patients. 
Dr. Shukla also places importance on clinical research in the treatment of epilepsy. "It is only with patients' willingness and cooperation that epilepsy researchers have been able to address complicated research questions, which in turn helps treat patients better. I would like people to be more aware of the social implications of living with epilepsy and to participate more enthusiastically in clinical epilepsy research." 
In the future, Dr. Shukla hopes to see continued work in areas such as epilepsy pharmacology, genetics of epilepsy, brain network-based understanding of focal-onset epilepsy, quality of life determination and outcomes research involving refractory epilepsy, mechanisms and outcome improvement in epilepsy emergencies and sudden unexpected death in epilepsy. "In future, I hope to see large studies with greater impetus on epilepsy as a multi-system disease rather than just a symptom complex. Cognitive, psychological, behavioural, physical, sleep-related, hormonal and cardiac comorbidities are as important in this condition as seizures," she says. 
Dr. Gavin Winston is a Queen's associate professor of Neurology and his research concentrates on people with epilepsy and using computerized analysis of data such as MRI brain scans and EEGs to improve diagnosis and treatment and the understanding of comorbidities such as cognitive problems. Before coming to Queen's, Dr. Winston was running a research group in the UK at University College London that has one of the biggest epilepsy surgery programs in Europe. "I was using MRI techniques to increase the number of patients suitable for surgical treatment, improving the safety of the surgery and understandings its effects on the brain," he says. 
"The epilepsy team at KHSC has significantly expanded recently and now has three neurologists working alongside neuroradiologists, neurosurgeons, EEG technologists and an epilepsy nurse to enable us to provide surgery locally so that patients do not have to travel elsewhere. Having previously worked at a large epilepsy surgery centre, I bring my expertise in surgical assessment and neuroimaging to complement existing expertise in genetics, EEG, ketogenic diet and non-seizure outcomes of treatment," Dr. Winston says.
Epilepsy is the most common serious neurological condition and affects 1% of the population (around 90,000 people in Ontario). Aside from the seizures that define the condition, it causes many other problems such as cognitive (e.g. language, memory) and psychiatric (e.g. depression, anxiety). Dr Winston says, "I would hope that in the future the amount of research funding better reflects this so we can better understand and treat both the seizures and the associated issues."