The Division of Dermatology has been the busiest receiver of referrals for a long time. SEAMO is pleased to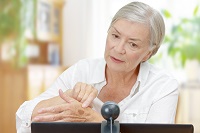 welcome Dermatology into a brand new eConsult pilot project, encouraging referring physicians to send an eConsult to this team of doctors instead. 
Dr. Thomas Herzinger is one of the physicians answering eConsults and has provided reasons for specialists to start using digital health initiatives. 
Benefits:
•    Prompt answers to specific questions related to dermatological diagnoses, treatment options and investigation, which allow the primary care physician to get the advice they need in order to proceed with patient management.
•    No need for the patient to commute to the clinic, particularly relevant for people who cannot drive themselves or live in remote areas.
•    No use of clinic resources such as space or COVID screening procedures that are rare in pandemic times, no risk of exposure.
 
Why does Dr. Herzinger use it?:
•    Same as above, plus
•    For "corridor consults" where the question and advice given are documented and can be added to the chart – this is much better for patient care than informal verbal advice on the run!
•    Patients are more likely to be followed-up by referring GP, will limit number of follow-up visits and release capacity to see new referrals.
 
Why do Dr. Herzinger's colleagues use it?:
My colleagues use it to get quick answers to specific questions, so that they can continue patient care with the right advice. Clearly this works best in those circumstances where an answer to the question or a treatment suggestion can be acted on directly by the physician asking. It is a method of increasing physician independence and facilitating quicker patient care.
Questions that can be answered using eConsult:
With a good history and in-focus, well-taken photos, most questions can be answered and management suggested.  If the patient clearly needs in-patient services, then that can be suggested too. Things that cannot be done using eConsult:
•    a complete skin check
•    a mole check
•    scalp diseases and other things that are hard to photograph
•    anything that likely requires procedures (e.g. biopsies)
 
The dermatologists involved in this pilot project are:
Dr. Yuka Asai
Dr. Thomas Herzinger
Dr. Ruth MacSween
Dr. Sonja Molin
 
For instructions on how to take a great clinical image for a Dermatology eConsult, check out this tip sheet.