SEAMO wishes to congratulate the Division of Hospital Medicine, led by Dr. Ammar Rashid, for its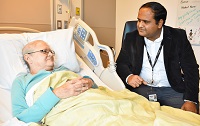 nomination for one of Providence Care's Achievement Awards. The awards were created by Providence Care staff as a way to honour their peers. The entire Division of Hospital Medicine was nominated for the Leading with Excellence Achievement Award, celebrating teams committed to learning and sharing their knowledge and professional standards to make a positive impact on others. 
The team was nominated for the award by Allison Philpot, Director, Medical Administration at Providence Care, and Simon O'Brien, Chair of the MAC. In their nomination form, they wrote: "Early in the pandemic, Providence Care Hospital helped regional partners by decanting beds – pulling patients mainly from KHSC to new spaces at Providence Care Hospital to empty beds at KHSC in the case of a potential COVID surge. The medical management of these additional patients at Providence Care Hospital was covered by the physicians in our Division of Hospital Medicine." In addition, within the Complex Medical Management program, they took six long-term mechanically-vented patients for post-ICU rehabilitation, which helped generate much needed ICU capacity in the fight against COVID-19. Philpot and O'Brien write, "The doctors working in the Division of Hospital Medicine stepped up in the early days of the pandemic with this extra work. No new resources were added, no new pay was provided. And yet, they did it while recognizing the immediate needs of a crisis in our community. They recognized the valuable role that they could play, and every one of them modeled a positive and ethical standard to caring for patients." 
The Department of Family Medicine (DFM) in collaboration with SEAMO and Providence Care Hospital, established the first academic division of hospital medicine in Canada in January 2019. The division is in the process of creating a PGY3 enhanced skills fellowship program for DFM graduates and adding a stroke hospitalist to the Rehabilitation program at Providence Care Hospital. If you are interested in joining the Division of Hospital Medicine, please reach out to Dr. Ammar Rashid at rashida@providencecare.ca. 
Photo courtesy of Providence Care