For almost 10 years now, Dr. Agata Szlanta has been providing exceptional person-centred care with the Division of Geriatrics for both inpatient and outpatient rehabilitation programs at Providence Care Hospital.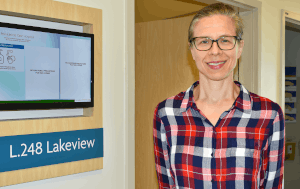 She's also a hospitalist with the Division of Hospital Medicine.
"The division is an opportunity to work and collaborate with other rehabilitation and medical units at the hospital and gain an appreciation of the wonderful work and care we provide," said Szlanta.
The division, a shared effort with Queen's University's Department of Family Medicine and the Southeastern Ontario Academic Medical Organization, features 11 hospitalists who help support care across the hospital.
"It's a very collaborative and collegial group. I appreciated the different expertise that everyone brings which ultimately benefits patient care," Szlanta said.
"A division promotes collaboration and consistency of care. It also provides an opportunity as a group to improve patient care by identifying process or system issues."
Szlanta attended Queen's University where she completed her Family Medicine residency and Care of the Elderly training.
The physician has a dual appointment with the Division of Geriatrics and the Department of Family Medicine.
*Author Nikki Jhutti, Providence Care Communications Officer