If you've ever been to Heritage 2 at Providence Care Hospital, chances are you've run into Dr. Greg Patey.
He's been part of the Providence Care team since 1989, and his commitment to the organization is one of the reasons why we're a leading provider of specialized care in aging, rehabilitation and mental health.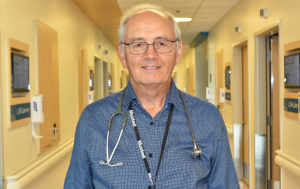 In the mid 90's, he acted as Clinical Lead for both the Complex Medical Management and Inpatient Palliative Care programs.
He held both positions until 2016, and continued as the Clinical Lead for the Complex Medical Management program until January of this year.
Patey is now part of the Division of Hospital Medicine.
As one of 11 hospitalists, Patey and team help support care across Providence Care Hospital.
"The formation of a hospitalist group does several positive things," said Dr. Patey.
"It creates a team of like-minded physicians who clearly enjoy hospitalist work and who, by personal choice, work with some of the most vulnerable in our society. The cohesion and collaboration help improve work/life balance, and provide opportunities to learn from each other, which translates into a more sustainable model of care for Providence Care Hospital. It also goes without saying that this will translate into improved care for our clients and patients."
Dr. Patey says he's also looking forward to training future physicians to become hospitalists.
"It's exciting to be on the leading edge of this format of hospital medicine in the country, and to be part of it becoming a recognized academic program. I look forward to continued participation."
Patey was born and raised in a small northern Newfoundland community, called St. Anthony.
He studied medicine at the Memorial University of Newfoundland and also attended Queen's University for Family Medicine.
He made the limestone city home in 1983.
In addition to working with Providence Care, Patey also runs a community family practice at Frontenac Medical Associates.
Patey and his wife have four children; two in Kingston and two in Berlin, Germany, and two grandchildren.
In his spare time, Patey loves to travel the world with his wife.
*Author Nikki Jhutti, Providence Care Communications Officer