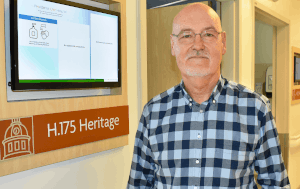 He's a familiar face in the halls of Providence Care Hospital.
Dr. Keith Greenway has been providing rehabilitation care on Heritage 1 for the last two years.
The physician is also part of the Division of Hospital Medicine.
As one of 11 hospitalists, Greenway and team help support care across the hospital.
"I have always believed that Hospital Medicine is a distinct clinical discipline," said Greenway.
"It provides a voice for the common interests of the hospitalists across the departments at the hospital."
Greenway adds the team comes from diverse backgrounds, which in turn will help with patient care.
"I think they will become very engaged in developing the division and contribute to the development and initiation of quality improvement for our patients."
Greenway graduated from the University of Toronto Medical School and holds a fellowship in Emergency Medicine.
He previously served as a Program Director for the Emergency Medicine Residency Program at McMaster University.
He was also the Director of the Emergency Services program at the William Ostler Health Centre, in Brampton.
Greenway later led a multisite Hospitalist Program at the Niagara Health System, and helped establish a Hospitalist Program at the Joseph Brant Hospital in Burlington.
*Author Nikki Jhutti, Providence Care Communications Officer