She's a familiar face at Providence Care Hospital.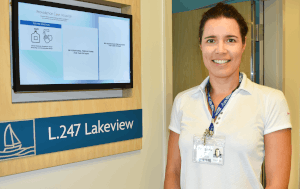 You'll normally find Dr. Sara Porter providing care for adult mental health patients on Parkview and Lakeview 0s, or lending a helping hand with stroke and musculoskeletal patients on Lakeview 1.
Porter is one of 11 hospitalists who make up the Division of Hospital Medicine.
The division helps support care for all 230 beds at Providence Care Hospital.
"The acuity of the medicine is very rewarding and stimulating. I see this as a very fulfilling way to practice family medicine," said Dr. Porter.
"There's less emphasis on the business aspect of things, and more emphasis on the medical. I also enjoy the collaboration between different specialties as well."
Porter added the division is not only a win for Providence Care's patients and clients, but also her colleagues.
"It provides us with more self-governance within the hospital and therefore more predictability, structure and support amongst the physician group. I think it also makes the hospitalists feel more acknowledged and appreciated."
Porter, originally from the Ottawa area, has been with Providence Care since 2012.
She attended Queen's University where she completed an undergraduate in Biology, studied Family Medicine, and also finished a Fellowship in the Care of the Elderly.
In addition to working at Providence Care Hospital, you'll also find her teaching about long-term care with the Department of Family Medicine, or out in the community.
*Author Nikki Jhutti, Providence Care Communications Officer