We are pleased to share that on Monday, September 13, 2021 our Governing Committee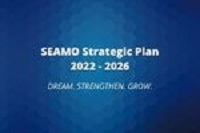 endorsed the five new strategic priorities for SEAMO. Here are the highlights:
Five strategic priorities:
1.    Nurture a thriving and engaged membership
2.    Promote accountability based on health outcomes
3.    Expand partnership and primary care and interdisciplinary teams
4.    Collaborate for improved health in the region
5.    Cultivate collaborative research and innovation
Governing Committee Chair George Thomson shared this about the strategic planning process: "This completes the first stage of what has been an extensive and inclusive process of engagement. Now comes the hard work to identify the first concrete steps in implementing the framework and to ensure these principles guide future SEAMO decision making."
Work is now underway to support an implementation plan to support the strategic priorities. Stay tuned for details early in the new year.