Thursday, February 4 is World Cancer Day and we are spotlighting one of our wonderful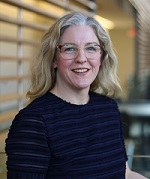 physicians whose work in cancer research is making a difference.
Dr. Annette Hay is an Associate Professor in the Department of Medicine and a Senior Investigator with the Canadian Cancer Trials Group. As part of that work, she designs and conducts clinical trails, seeking better treatments for people with blood cancers. "Specifically in leukemia, lymphoma and myeloma, I collaborate with many others to identify therapies that work well against the disease, with as few side effects as possible, and are affordable for the health care system," Dr. Hay says. 
Dr. Hay says the personal importance to anyone who has had cancer, or known someone affected by it needs no reiteration for why cancer research is so important. "According to Statistics Canada, 'nearly 1 in 2 Canadians (45% of men and 43% of women) is expected to develop cancer during their lifetime. About 1 out of 4 Canadians (26% of men and 23% of women) is expected to die from cancer.' As a result of cancer research, an increasing number of cancers can now be cured," she says. Further research being done will extend life for even more people. Dr. Hay says even for those cancers that cannot yet be eradicated, researchers strive to improve quality of life for those living with the disease. She says, "At the population level, cancer research aimed at improving the cost-effectiveness of treatments, aids governments in providing health care to the maximum number of people, obtaining the best value from tax payers' hard-earned dollars." 
Dr. Hay's hope for the future of cancer research is that it becomes embedded as part of cancer care, learning systemically from treatment of one patient how to better treat the next. "My hope for the future is a balance cancer research program where both industry and academia thrive, each developing from their distinct perspectives new therapies and new ways to deliver them," she says. "My hope for the future is expanded diverse cancer research of treatments from drugs to radiation to surgery to emerging disruptive technologies such as adoptive cell therapy, and encompassing the laboratory and imaging correlative studies to identify those patients most likely to benefit."
Dr. Hay's message on World Cancer Day is clear: if you have the opportunity to participate in a clinical trial, please consider it. "In doing so, you will receive excellent clinical care yourself, while contributing to advancing scientific discoveries and treatments for patients who come after you."