As a family doctor and assistant professor with the Department of Family Medicine at Queen's University, Dr. David Barber knows both the benefits and pain points of the eConsult service. That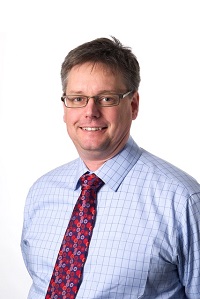 is why in his role as the Co-Chair of the Digital Health support structure of the Frontenac, Lennox & Addington Ontario Health Team (FLA OHT), he has taken steps to create a pilot project aimed at lessening the load on the shoulders of primary care providers in the region using digital health initiatives like eConsult. This pilot is for a virtual eConsult clerk to handle the digital paperwork involved in sending and receiving eConsults. 
"Essentially what happens is any eConsults are intercepted by the central clerk, and they deal with the administrative work and send it in through OTN, and when the response comes in, they send it to that family doctor," Dr. Barber explains. This eConsult clerk then saves the primary care provider's time on paperwork. "The basic idea is that family doctors are too busy, and paperwork keeps them after hours. With the current model for eConsult, the idea is to leave their current EMR and go to the OTN portal to submit the eConsult, and it's a real barrier. It becomes an issue of cognitive overload," Dr. Barber says. "Many family doctors from the OHT reached out to me and said they would use eConsult, but they need a clerk. There's nobody to check for responses from specialists and help them to report back to patients."
This pilot project is currently underway, with one eConsult virtual clerk from the Department of Family Medicine at Queen's working with seven physicians from the Napanee area to handle the paperwork associated with sending an eConsult to a specialist and receiving it back. "Our family doctors recognize the value of eConsult as it helps to provide better care for our patients. It makes life better for family doctors to provide better care, it's more timely and efficient, and you can get a direction of what you need to do for the patient very quickly," Dr. Barber describes. "Sometimes getting a patient seen by a specialist can take months, and this way, you get a response within a couple of days. The value of this pilot project is to take the work off the plates of family doctors so they can be doing the work they should be doing, not the paperwork.
Dr. Barber says that the FLA OHT Digital Health support structure is looking to double the number of eConsults sent in the region with this pilot project. "The idea with this project is to create a central intake for eConsults. Specialists recognize it's a great service; patients see the results as well," Dr. Barber says. The future of this pilot project is to keep evaluating success every week then garner funding to get this project off the ground on a larger scale. "The FLA OHT brought together all family doctors, and we knew if we could put something together quickly, we could see benefits quickly. As soon as we can acquire funding for a permanent position, we can roll it out to the other family doctors in the area. Our ultimate goal is to have this service available to every family doctor in the FLA OHT, and this could be scalable province-wide," Dr. Barber explains.
eConsult is an effective tool for all involved, according to Dr. Barber, including specialists, primary care providers, and most importantly, patients. "In the last 20 years, it's the most important innovation to come for primary care. We need to use eConsult to provide effective and efficient care to our patients."