Napanee family doctor Dr. Kim Morrison has been passionate about bringing common healthcare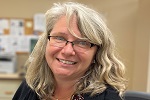 issues to tables of providers to discuss solutions for years. For Dr. Morrison, who did her medical school and residency training at Queen's, beginning to think about primary care leadership came from her physician role in Napanee. "It's an amazing community where primary care leadership in conjunction with hospitals can flourish. We're heavily involved in community projects and it's been the groundwork for thinking about system leadership." 
Dr. Morrison says there have been many attempts at health system transformation over her career.  Health Links came along first, which then shifted into the LHIN's Subregions.  These were led by clinical leads from many sectors at tables talking about common problems with access to care. As a primary care provider taking on the role of Chief of Staff of Lennox & Addington County General Hospital in 2013, she had the opportunity to work with hospital leadership and develop positive relationships with other hospitals. "When the Ministry announced the introduction of the Ontario Health Teams, it was a natural fit from our subregion work, and that's how I landed here. It made sense to work together and we submitted our first application in January 2020."  In this role, Dr. Morrison is a co-lead with Dr. David Pichora on the Frontenac, Lennox and Addington team.  The FLA OHT team now has over 60 signing partners working together to achieve common goals for the region.
For Dr. Morrison, what excites her about the opportunity that the OHT presents is the different way to transform the provision of care and how health and wellness can truly be addressed in the community. "It's the freedom and responsibility to build from the ground up with our whole communities as partners to keep people well in their homes and eliminate words like 'transitions' and 'system navigators.' The focus on 'people-centred care,' wellness, equity and the circles of care in health homes and health neighbourhoods, is a transformation from traditional medical model of care.  There is energy and enthusiasm from all sectors to build networks of care to make a difference," she says.
The introduction of all the Ontario health teams, and the Frontenac, Lennox and Addington team in particular, is important now because what the OHT will be able to achieve for the whole community is bigger than what any individual silo, organization or agency could have done on their own, Dr. Morrison says. "When we started with subregions, we started with common issues and how we could solve them together. The OHT with its maturity over time will help to eliminate these silos. By focusing on the population as a whole, our population health goals, we can consider how we function as one system and how we ensure we're engaging the entire population. Right now, the system is very reactive, people come and we treat them and we don't know what we don't know and these are such huge pieces of healthcare and we are now focusing on preventative health and a health equity approach, a proactive approach," Dr. Morrison says. 
SEAMO is one of the over to 60 signing partners to the FLA OHT and Dr. Morrison says each partner, regardless of size, will bring their expertise to the table. She says, "Starting where we are now, we need to capitalize on the fact there are specific areas of expertise that we have the opportunity to bring together. By recognizing what other members of the table are bringing, and most importantly recognizing the community that the system is for and will be built with, I am confident we will build the health and wellness system we need together".