Kingston Health Sciences Centre (KHSC) is the regional hub in the hub and spoke model of providing renal care across all regions of southeastern Ontario. The program has satellite dialysis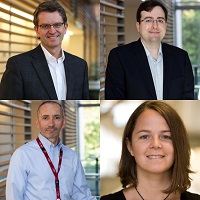 units in Belleville, Brockville, Napanee, Picton, Smiths Falls, Bancroft and Moose Factory. At most of these sites, the program also provides care to patients in the earlier stages of renal failure (chronic renal failure). Division of Nephrology Head Dr. David Holland says creating a system to receive care in the home is the objective of the regionalization of the work of the Department. "As a principle and programmatic goal, it is our hope to provide care to patients as close to home as possible, which is supported by our satellite dialysis units. In addition, there has been an increased emphasis on home dialysis," he explains. This home dialysis program is also supported by several nurses across the region.
Also noteworthy in the Division is the recent introduction of point-of-care testing for chronic kidney disease in partnership with the Indigenous Interprofessional Primary Care Team out of Tyendinaga/Mohawk's of the Bay of Quinte region. "This is a truly collaborative initiative involving the IIPCT, KHSC and ORN/Ontario Health," Dr. Holland says. 
The Nephrology team out of Queen's University that works on regionalization goals of the Division includes Dr. Karen Yeates, who is in charge of the Moose Factory satellite site, and Dr. Eduard Iliescu, who is the regional medical director for the Ontario Renal Network. Dr. Iliescu is also the medical director of the hemodialysis program at KHSC. Dr. Bogdan Momciu joined the Nephrology team at Queen's six months ago and is the director of the home dialysis program.
"We serve a very large geographic area in between the major centres of Toronto and Ottawa. Kingston being a hub allows us to facilitate high quality care delivery throughout southeastern Ontario," Dr. Momciu explains. "If every patient had to come to Kingston for care, it would be severely limiting as some do not have the means of transportation or would require very long trips back and forth. Having care available in many local communities both lessens the burden on a principal site while also facilitating access for patients." 
Dr. Momciu's main focus is on home hemodialysis and peritoneal dialysis. "Our goal is to strive for patients to be able to have their kidney disease treated at home, wherever that place may be. Patients are generally much more comfortable having their care done at home rather than having to come to a hospital or clinic for treatments. This was particularly evident with the current pandemic," Dr. Momciu says.
Dr. Momciu highlights the importance of the Division's presence in the James Bay area, providing care to individuals from marginalized groups. "Having care delivered directly in the James Bay area is tremendously beneficial to try and maintain the ability for patients to stay at home within their communities without having to compromise on their health care choices or options," he describes. "This serves to help narrow the gap in healthcare equity for our First Nations populations." 
The Division of Nephrology's regionalization efforts are well worthwhile in advancing the pursuit of home healthcare for patients, Dr. Momciu says. "I hope we will continue to be able to expand our reach and ability to deliver more healthcare in communities closer to people's homes."