Dr. Jocelyn Garland is a full-time associate professor in the Department of Medicine, Division of Nephrology at Queen's University. She is also cross-appointed to the Department of Obstetrics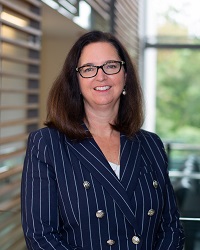 and Gynecology as an associate professor. Dr. Garland's primary focus in clinical nephrology is the diagnosis and care of kidney patients who have complex, rare diseases: glomerulonephritis (GN) and pregnancy care for chronic kidney disease patients. At Queen's University, this clinic is referred to as the Specialized Kidney Disease clinic. "I created this clinic in 2015 with support from the Division of Nephrology, the Department of Medicine, Queen's University, and Kingston Health Sciences Center (KHSC)," she explains. "Prior to this time, there was no dedicated GN clinic and no consistency in GN care in the South East region." The primary goal of the SK clinic is to provide access to specialized care in the area of rarer kidney disease. The clinic has a strong preventative focus, aiming to delay progression to end stage kidney disease (dialysis and kidney transplantation). 
Dr. Garland has served as a provincial expert on the Ontario Renal Network's Priority Panel for glomerulonephritis care, which advocates for equitable patient care access and resources throughout the province and she is recognized clinically with expertise particularly in the field of Thrombotic micro-angiopathy (TMA).  In 2018, only a short time after this clinic was created, the Specialized Kidney Disease clinic at Queen's University was recognized as one of six specialty clinics for glomerulonephritis and pregnancy in chronic kidney disease in the province of Ontario. "I expanded the scope of this clinic, and in 2019, partnered with a rheumatologist, Dr. Marie Clements-Baker so that vasculitis and systemic lupus patients could have coordinated care with nephrology and rheumatology specialists at the same time," Dr. Garland describes. "In similar fashion, I created a Fabry disease clinic that operates four times per year, which I co-manage with a medical geneticist, Dr. Jennifer Mackenzie, so that the care for this rare disease is consolidated."
 
The Specialized Kidney Disease Clinic is the kidney clinic where arguably some of the sickest kidney patients, with the most acute and severe kidney disease presentations, are assessed and followed. These patients require close observation and follow-up as the medications used to treat the various diseases can be quite toxic and have a number of side effects. "As Medical Director of this clinic, I started with approximately 50 patients in 2015. The current number of active patients for glomerulonephritis and pregnancy is 295, which demonstrates very substantial growth in this clinical program," Dr. Garland says. "This clinic is attended by many nephrology residents and internal medicine trainees, and therefore provides a wonderful opportunity to supervise and teach medical learners in the area of rare disease."
Dr. Garland assisted in the ability for KHC GN/pregnancy patients to have specialized blood testing for placental growth factor, advanced complement functional testing, and ANCA / AntiGBM. None of these tests were possible "in house" at KHSC prior to 2019-2020. "In house specialized testing has improved timely diagnosis and treatment for GN/pregnancy patients. Specialized complement testing has helped confirm diagnosis of complement mediated kidney disease, and / or has assisted in the work-up for kidney transplantation when cause of end stage kidney disease is unknown," Dr. Garland explains. 
 
Dr. Garland says her work and the work of the Specialized Kidney Disease Clinic would not be possible without the support of Renal Program Operational Manager Lori Van Manen, Manager Stephanie Samms, dedicated GN nursing staff: Janice Reynolds, Melana Felske, Taylor Ramsay and multidisciplinary support from pharmacy, dietitian and social workers. "Without everyone's help, the complex clinical care needs could not be delivered," she says.