November is Lung Cancer Awareness Month and we took the opportunity to talk to Dr. Geneviève Digby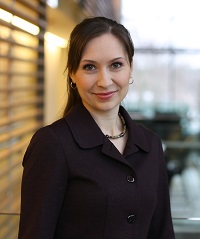 from the Department of Medicine, Division of Respirology. She provides care for patients with lung health issues and is also the clinical lead of the Lung Diagnostic Assessment Program (LDAP), a rapid assessment clinic that expedites the care of patients being investigated for suspected lung cancer. 
"My research focus is quality improvement in healthcare, which developed from having completed a Master of Science in Healthcare Quality at Queen's. With the LDAP team, we seek ways to improve timeliness of care and reduce barriers to access to care for patients," Dr. Digby explains. "We do this by implementing initiatives that streamline workflow process and improve integration of care. One of our initiatives is that of a multidisciplinary lung cancer clinic, where multiple different types of lung cancer specialists (respirologists, oncologists, surgeons) work together more collaboratively to help improve decisions around care and speed up time to diagnosis and treatment." In the LDAP, physicians work directly with patients undergoing evaluation for suspected lung cancer. Dr. Digby says the LDAP's specialized rapid assessment clinic has been shown to drastically reduce the time between initial consult to diagnosis and treatment. "Through the LDAP, we are able to streamline care and reduce the number of visits for patients by providing access to the right specialists to help them navigate their care during this period that can be very stressful and overwhelming." 
In May 2021, Dr. Digby and Dr. Christopher Parker were awarded a grand prize of $100,000 from Merck Canada and Discovery District (MaRS) for the Lung Cancer Innovation Challenge. Dr. Digby says they knew their idea to expand the LADP clinic model was a good fit for the challenge. "The challenge called for solutions that could enhance a lung cancer patient's journey by reducing the length of time between diagnosis and treatment, especially for rural and lower socioeconomic populations in Ontario. Almost 40 per cent of patients in our region reside in Napanee or further west, so we plan to launch an outreach clinic model at the Lennox and Addington County General Hospital where patients referred to our clinic can be seen at the LACGH site for their first visit with a respirologist. In this way, we would bring specialist care closer to patients in the community," she says. 
The group is also working with the First Nations communities in the region to integrate an Indigenous lead in the clinic so they can better meet the needs of this patient group. "We are excited to have won this award as it will help us build on the successes of our LDAP clinic model. It will help improve timeliness of care, reduce geographic, socioeconomic, and cultural barriers to care by improving access to care, and it will also help personalize lung cancer care, including more culturally sensitive care for the Indigenous patients in our region," she says. "It is fitting that our outreach clinic launches in November during Lung Cancer Awareness Month. We welcome the opportunity to be able to bring specialized lung cancer care closer to patients in the communities they live in." 
Dr. Digby explains there are several exciting advances happening in the field of lung cancer diagnosis and treatment. "Lung cancer screening is a growing area of focus that will hopefully help us catch more cancers at early stages when treatments have a better chance of working. The number of drug treatments for lung cancer is also rapidly growing, as we identify more molecular targets that can help us personalize lung cancer treatments," she says. "There are also new technologies developing in blood testing for cancer markers and treatment strategies, which will help us provide more diagnostic and treatment options for patients moving forward."
One thing Dr. Digby wants people to know about lung cancer during this awareness month is that smoking cessation significantly drops the chance of getting lung cancer. "While we as healthcare professionals continue to work on improving care for patients with lung cancer, the most important thing one can do to reduce one's chance of getting lung cancer is smoking cessation. It is never too late to quit smoking. Even for those with lung cancer, quitting can improve the success rate of surgery, make treatment more effective and help people live longer and feel better," she says. 
What is also important to note about lung cancer is there are several effective treatment options for people with lung cancer, according to Dr. Digby. "We have a growing number of effective treatment options that can shrink the cancer, slow it down and help people live longer and feel better. If we can catch the cancer while it's still in an early stage, there's a better chance of a cure," she describes. "The takeaway is it's important for people to see their healthcare provider if they have lingering symptoms that won't go away (such as cough or shortness of breath). If testing shows abnormal findings on lung imaging, patients should be seen in a rapid assessment clinic like the LDAP to expedite work-up and optimize care. The earlier we can diagnose it, the more options we will have to treat it."