Steeped tea in hand, in the basement of his new workplace at Kingston Health Sciences Centre, Dr. Faizal Haji describes his excitement at finally being in a position that provides protected time to pursue his passion for research. As important, Haji, Kingston's first Pediatric Neurosurgeon, looks forward to being part of a community that values family and personal growth.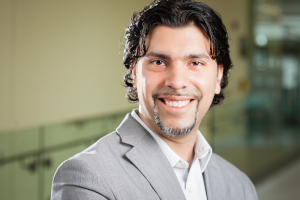 "This position allows me time for other important roles in life, like husband, father and son," he said, adding he also likes separating his clinical work from his teaching and research. Haji moved to Kingston in July with his wife, Rabia and daughter, Rayya. This is the first time in several months Haji and his family have been able to live together. While completing his fellowship in Pediatric Neurosurgery at the University of Alabama at Birmingham, Haji lived in the U.S. while his family stayed in Toronto. 
Living in the same city as his family was a determining factor in Haji accepting the position of Medical Education Scholar and joining SEAMO. Haji is only the second physician to hold the post of Medical Education Scholar. Dr. Boris Zevin, Bariatric Surgeon, joined SEAMO in 2016 as the first Medical Education Scholar. Both Haji and Zevin share an interest in simulation education.
"Simulation education allows residents to master basic skills like how to look through the eyepiece of a microscope or how to use their hands from this new viewpoint, long before they ever reach a real patient," said Haji. "It saves time and helps residents enter the OR more confidently than those who didn't receive the same training." 
As a resident at Western University, Haji's mentor introduced him to simulation-based learning. This ultimately led Haji to Dr. Richard Reznick's work in medical education. It was, in part, due to Reznick's influence that Haji now belongs to a number of global groups focused on medical education training for low-income communities. He has travelled to countries such as Malawi and Vietnam to teach clinicians how to use the limited resources they have to overcome everyday challenges. 
"It isn't just about having money for medicine, equipment or facilities to provide healthcare in places like Sub-Saharan Africa, India or South-East Asia," said Haji. "It is about investing in the human resources through training and education." 
Haji's next goal is to develop a way to evaluate the simulation programs and curricula he has developed. He is also working with the Ministry of Health in Malawi on the Emergency Triage Assessment and Training Program for frontline health workers. He's hoping to take the program used for central hospitals and apply the design to a rural health clinic.  
Follow Dr. Haji on Twitter and learn more about him on the Queen's School of Medicine website.