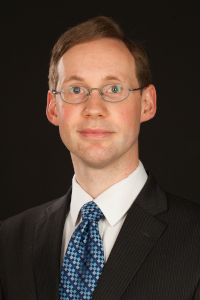 New to the Department of Medicine and the SEAMO family is Dr. Gavin Winston. 
Dr. Winston, who officially joined the team on May 1st is a neurologist specializing in epilepsy. He is now the third epileptologist in Kingston along with Dr. Lysa Lomax and Dr. Garima Shukla. Gavin previously worked at the National Hospital for Neurology and Neurosurgery in London, England, the largest Epilepsy Surgery Centre in the U.K.
 
Kingston recently being designated a District Epilepsy Centre was a draw for Dr. Winston, as well as his wife Dr. Elvina Chu (who is working as a neuropsychiatrist in Kingston) having family in Canada. 
"We had been looking to move to Canada for a while as we were concerned with the future of health service in the U.K. as well as the working conditions within it," says Gavin.
As Kingston expands their epilepsy services, it offers opportunities for an increase in the number of patients being assessed, of which, one-third will not respond to medication and may need to be referred for epilepsy surgery. 
"What a lot of people don't know is how common epilepsy is. It affects about one percent of the population. The demand for the service in Kingston was much more than just one person could offer. Since Dr. Shukla joined the department last year, the wait times have reduced significantly and I hope to continue this," says Gavin.
Dr. Winston's hope is to one day be performing the epilepsy surgeries here in Kingston to better serve our community and continue his research around epilepsy surgery. He has set up a first seizure clinic to more quickly assess patients presenting to the Emergency Department or elsewhere with their first event.
 
"When people think of epilepsy they just think of the seizure themselves, but our patients have a lot of other problems alongside the seizures. Many suffer from anxiety or depression or have issues with memory and planning. A district epilepsy centre presents an opportunity to research further these comorbidities."  
Learn more about Dr. Winston on the Department of Medicine website and follow him on twitter.
Welcome aboard, Gavin.