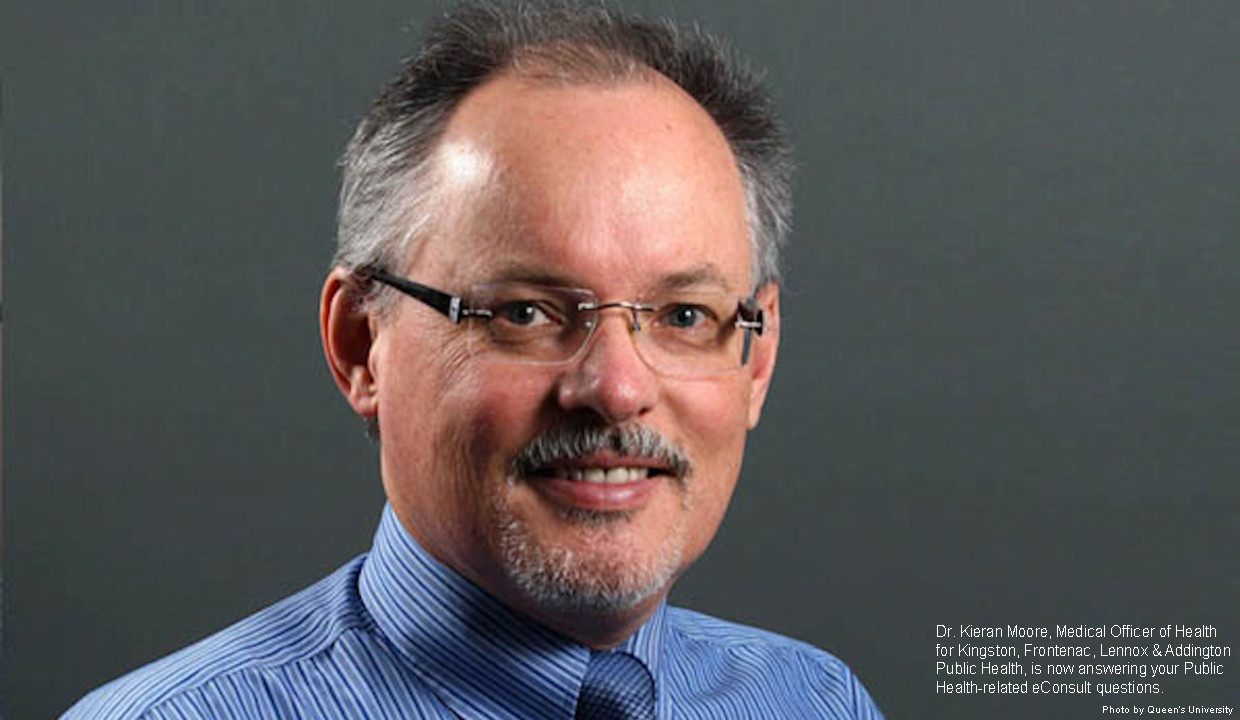 Acute Lyme disease and HIV pre-exposure prophylaxis may seem like opposite ends of the medical spectrum for most people, but for Dr. Kieran Moore, it's all in a day's work.
Moore is the Medical Officer of Health for the Kingston, Frontenac, Lennox & Addington Public Health Unit. He is now available on eConsult to answer your questions about immunizations, sexual health, reportable diseases, animal bites and rabies exposure, infection prevention and control, HIV PrEP, acute Lyme disease and everything in between.
Moore holds specialty certifications in Family Medicine and Emergency Medicine, Master's degrees in Disaster Medicine and Public Health, as well as a Diploma in Tropical Medicine and Hygiene. Moore was instrumental in establishing a national framework on Lyme disease and has paved the way to increase support to improve the diagnosis and treatment of Lyme disease in Canada.
Other new specialties available in the South East LHIN
In addition to Public Health, 14 other new BASE Managed Specialty groups have recently been added in the South East LHIN:
Allergy & Immunology — Pediatrics
Geriatrics — Care of the Elderly
Medical Oncology — Breast
Medical Oncology — Lung
Pediatrics — Endocrinology
Neurology — Headache 
Neurology — Movement Disorders
Ophthalmology — Glaucoma
Opioid & Addiction — Addiction Medicine
Psychiatry — Addictions
Psychiatry — ADD/ADHD
Psychiatry — Developmental / Behavioural
Psychiatry — Perinatal
Urology — Oncology