February 4 is World Cancer Day and this year, we are highlighting the work of one of our SEAMO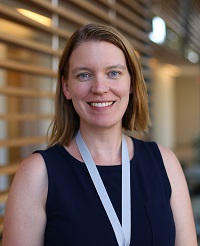 physicians working in the area of cancer research.
Dr. Tricia Cottrell is an assistant professor in the Department of Pathology and Molecular Medicine and a senior investigator with the Canadian Cancer Trials Group. She has been at Queen's University for the past two and a half years. Dr. Cottrell deals with cancer in both her clinical and research work. "In my clinical role as a pathologist, I use a microscope to examine patient biopsies to determine if cancer is present. I also run a cancer research lab funded by the Canadian Institutes of Health Research (CIHR) and the Ontario Institute for Cancer Research (OICR)," she explains. "The goal of my research is to give patients with lung cancers and mesothelioma more quality time by improving our ability to use the immune system to fight cancer." 
Dr. Cottrell says she hopes the future of her current research work will lead to clinical trails in the field "My research focuses on the study of patient tumour tissues at the level of individual tumour and immune cells. We are using exciting new technologies to understand how tumours escape the immune system. The goal is to develop clinical tests that will help individual patients choose the therapy most likely to work for their tumour," she says. 
According to Dr. Cottrell, cancer patients and their families are essential partners in cancer research. "Their participation and advocacy are the foundation of our continued progress in cancer care," she describes. "There are many ways to promote cancer research, including donations to organizations such as the Canadian Cancer Society, participation in clinical trials, and engagement on policies that regulate cancer research." 
On World Cancer Day, Dr. Cottrell wants people to know this: "Using the immune system to fight cancer is an exciting revolution in cancer therapy and It is possible only because of the many cancer patients willing to participate in research studies."