In December, SEAMO ran a holiday giving campaign encouraging our physicians to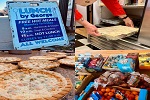 donate what they could to local organization Lunch by George. Thanks to the generosity of our community, our docs and Departments were able to raise an incredible total of $7,660! SEAMO is pleased to announce we matched all donations bringing our grand total to $15,320 to be donated to Lunch by George. 
The organization has been through a hard time during the pandemic, trying to keep their doors open to clients in need while still maintaining safety protocols. They are purchasing more food, but also have more expenses, for takeout containers and additions to stretch the lunches, like granola bars and juice boxes. This $15,320 will have a real impact for the local Kingston organization. According to secretary Linda Morgan, the donation will fund 10,680 meals, which always include fresh fruit and salads. In 2020, the group was able to serve 12,221 meals with an average of 60 clients per day. Lunch by George tries to make meals based on dietary restrictions as well and the menus include things like stews, spaghetti, lasagna, shepherd's pie, and baked chicken. The timing of the donation is also fortuitous as the organization is looking to buy more mitts, hats, gloves, socks, coats and boots for its clients. 
Lunch by George board co-chair Aveleigh Kyle said, "With the generosity of people in this community like yourselves, Lunch by George is able to provide a warm meal, clothing and compassion to Kingston's marginalized groups. Thank you ever so much." 
To learn more about the organization, please check out this video narrated by former CBC broadcaster Eric Friesen.