The Department of Critical Care Medicine works in clinical and academic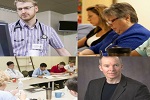 avenues at Queen's. According to Department Head Dr. Daniel Howes, "The clinical work of critical care (also called intensive care) involves the resuscitation, stabilization, recovery and rehabilitation of seriously ill or injured patients. Critical Care relies heavily on a multidisciplinary team, close monitoring, and a high caregiver to patient ratio." The Department has an accredited training program in Critical Care Medicine, teaches residents from other specialties, as well as providing teaching at the medical school.
With 13 members, the Department is the newest Department in the Queen's School of Medicine and was established in 2016. Dr. Howes says the Department has participated in SEAMO since it was established, first under the Departments of Medicine, Surgery and Anesthesia, then as an independent program, and finally as a Department.
Dr. Howes says there are a number of exciting things going on with the Department currently. "From a research perspective, Dr. John Muscedere continues his work with the very successful Canadian Frailty Network while leading a large multicentre trial to improve the care of patients with COVID-19. Dr. Gord Boyd is leading a CIHR-funded international trial examining the association between brain perfusion, delirium and long-term cognitive outcomes. Dr. David Maslove is the Canadian Lead for GenOMICC, a study looking at genetic traits associated with life-threatening COVID-19, which just had its preliminary results published in Nature." From an educational perspective, the Department has an extremely sought-after and popular fellowship training program that is growing to include two clinical fellowships: one in research methodology and one (established by Dr. Hailey Hobbs) in point-of-care ultrasound. 
For Dr. Howes, he recognizes the interconnectivity of his Department as being one of its greatest strengths. He says, "Critical Care physicians tend to work fairly closely together - there are three of us who provide care in the ICU for a week at a time. Our work involves a lot of excitement, stress, and a significant amount of tragedy and death. Working closely together in that kind of environment tends to bring a group together. It's such a good feeling knowing how much we can rely on each other for support - clinically, and emotionally."
For more information on the Department of Critical Care Medicine, please visit their website.