The Department of Obstetrics and Gynecology sees themselves as champions of women's health care,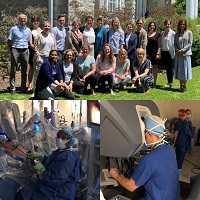 according to Department Head Dr. Graeme Smith. The Department's values include excellence, commitment, integrity, life-long learning, research, collaboration, work environment, accountability, service and diversity, equity and inclusion. The Department has 19 physicians spread out across the Kingston General Hospital (KGH) and Brockville General Hospital sites. Dr. Smith says the Department has "three gynecological oncologists, two urogynecologists, one fertility specialist, eight general obstetrician/gynecologists (with expertise in minimally invasive surgery, pediatric-adolescent gynecology, chronic pain, sexual health) and two maternal fetal medicine specialists at KGH and three general obstetrician/gynecologists in Brockville."  
Dr. Smith says the Department interacts closely with the midwifery program in Kingston and the family doctors who do obstetrics work, as both are considered part of the hospital Department. He also says the Department provides tertiary level of care in both obstetrics and gynecology. "We've made significant additions to the Department over the years, substantially impacting how we perform surgery, specifically minimally invasive surgery, where the patients are going home the same day as opposed to spending days in longer recoveries," he says. "Our oncologists have also jumped right in to the robotic surgery program so we're heavily involved with that as well." From an academic point of view, the Department has a core group of clinician scientists and clinician scholars. "They are successful from a funding and publication standpoint and to a certain degree, we're the envy of ObsGyn programs across the country in terms of productivity and clinical care." 
During the pandemic, the Department has had to make many changes, Dr. Smith says. "Obstetrics is considered a necessary procedure so it hasn't changed at all, though how we look on labour and delivery in terms of PPE is different. In gynecology, however, there's been a shut down in surgery similar to what happened last year. We have been able to get a lot of operating activity between the waves." Dr. Smith says, like other Departments, the OBGYN team has adopted virtual care practices. "All of us have taken on virtual care so this time around we're better able to maintain clinic activity," he says. "We've also been real advocates for pregnant women getting the vaccine either during pregnancy or during breastfeeding. Some of our advocacy across the province has helped to get women to the top of the Phase 2 rollout." This advocacy work during the COVID-19 pandemic has reached several thousands of people. Dr. Smith says, "We were involved with the creation of a social media infographics about vaccine safety that we tweed out that's been seen 70,000 times and a podcast that's been viewed 10,000 times," he says. 
According to Dr. Smith, a special Departmental shoutout has to go to Dr. Romy Nitsch who is the co-Program Medical Director for perioperative services for "her leadership in the whole COVID OR issue in terms of starting up and shutting down and doing an incredible amount of work." Also, Dr. Smith recognized Dr. Shawna Johnston who is the Program Medical Director for the Women's Children's Program in terms of her leadership with COVID. "Overall, everyone feels well-informed and has been well-prepared," he says. 
Dr. Smith says there is also regional work ongoing in Napanee with the Department of OBGYN's strong ties to the Department of Urology. "We also have plans to expand our regional urogynecology clinical work into all our community hospitals," he says. The one thing Dr. Smith wants people to know about his Department is that there is an incredibly collegial group. "We're all committed to the care of women, improving women's health and access to care and we're all committed to the social determinants of health and how we can improve access, not just in the local community, but also for Indigenous women as we reach out to our communities locally, like the Tyendinaga and the James Bay Cree populations. We're committed to the whole view of care in practice and in general." 
To learn more about the Department of Obstetrics and Gynecology, visit their website.