The Department of Ophthalmology is comprised of 21 physicians, including 10 SEAMO-funded positions.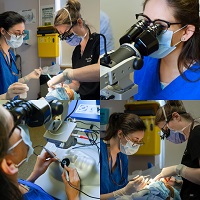 Dr. Martin ten Hove is the current Department Head with one year left in his second term.  The leadership team includes Dr. Rob Campbell (Deputy Head), Dr. Mark Bona (Program Director), Dr. Christine Law (Undergraduate Director), Dr. Haman Singh (Fellowship Director) and Dr. Todd Urton (OR Director). The Department has been part of SEAMO since its inception in 1994. Dr. ten Hove has seen the Department thrive under SEAMO "We are proud to be a part of SEAMO, an organization that has provided an excellent model for the delivery of excellent clinical service, education, research, and medical leadership." 
During an exceptionally difficult past year, Dr. ten Hove says his Department accomplished a great deal. "We pivoted and found innovative ways to continue our mandate and ensure the safety of our patients and ourselves," he says. During the pandemic, Ophthalmology residents and staff quickly pivoted to remote triaging for the Department's emergency eye clinic. "The most uplifting story of the year came from our alumni who collectively supported our residents by enabling the purchase of a state-of-the-art surgical simulation device. They truly showed their wholehearted support of the Queen's Ophthalmology Program and we couldn't be more proud and thankful." 
In 2020, the Department received national and international nominations and awards. They also were fortunate to welcome three new faculty members: Dr. Sarah Simpson, Dr. Jacob Rullo and Dr. Newton Duarte Filho. "I'm extremely excited about the new faculty that we have hired in the past few years. They have enormous potential and I'm confident that they will accomplish great things within the clinical, academic and research mandates of the Department," ten Hove says. 
Dr. Rob Campbell is collaborating with the Micro-Electro-Mechanical systems (MEMs) team in the Department of Mechanical Engineering at Queen's to develop a sensor to provide ophthalmologists with a clearer picture of a patient's glaucoma progression, helping to determine treatment. Ontario Health East also announced an additional year of funding for the South East Ontario Vision Rehabilitation Service (SOVRS), an important diagnostic and rehabilitative service led by Dr. Mark Bona.
One of the many successes of the department that Dr. ten Hove shared is that in January 2020, the Department opened its own not-for-profit clinic facility. "This unique model is designed to leverage clinical activity to support our academic mission," Dr. ten Hove says. "We are the first Department to start a satellite clinic as a not-for-profit corporation: Kingston Ophthalmology and Vision Sciences Centre (KOVSC) is located on the west end of Kingston. Despite opening immediately before a pandemic, the clinic has proven to be a successful venture, decreasing wait times for our patients and providing additional training opportunities. The clinic will also provide a modest amount of financial support for the Department's academic endeavors." 
As the world shows progress on combating COVID-19, the Department is looking forward to ramping up clinics and ensuring that the patient population feels continued confidence in our healthcare system.  Patient care remains our first priority and as waitlists have grown, so has the need to increase throughput and take care of our community.
To learn more about the Department of Ophthalmology, please visit their website.