According to Department Head Dr. Bob Connelly, the Department of Pediatrics is more than just a group of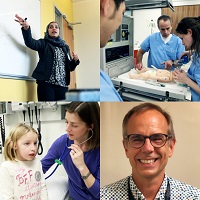 pediatricians; it is set up like a smaller model of a children's hospital. "In addition to Consultative General Pediatrics, we have a wide variety of practices and sub-specialties in pediatric medicine. We care for critically ill premature infants to medically complex patients that require tertiary sub-specialist care," he says. There are 25 SEAMO-funded physicians in the Department and they cover a broad range of pediatric specialties and sub-specialties in pediatric medicine and medical genetics. "We work with families before birth (with antenatally diagnosed conditions) through to the age of 18. Our medical geneticists also look after a substantial number of adult patients," Dr. Connelly says. 
The addition of additional sub-specialists to the Department is a recent development that Dr. Connelly is very excited about. "We're continuing to expand our ability to deliver tertiary care Pediatrics. For a long time, we have only had one sub-specialist per specialty and over the past five years, through the SEAMO HHR planning process, we have been able to increase the number of sub-specialists," he says. "Most recently, we've been able to add on a pediatric cardiologist we're recruiting for the Fall and hire a second pediatric gastroenterologist, which is particularly exciting because he is a PhD-trained clinician scientist." 
Something important to note about the Department of Pediatrics is their connections to other hospitals in the region, like Brockville General Hospital. "Following the model of the Department of OBGYN, we've been able to bring three pediatric physicians from Brockville into SEAMO. It's been a really positive step for us and for the team in Brockville," Dr. Connelly says. "Brockville having the stability of an AFP is going to help with their recruitment, as more and more pediatric practices across the country are going to an AFP model. And having these Brockville doctors be part of SEAMO has made them an integral part of our Department. In fact, we're having them do some of their clinical work in Kingston so we can galvanize that relationship more." Dr. Connelly adds that the Department has many adjunct faculty in various communities across the region, including in Belleville and Perth Smiths Falls.
One thing the Department has focused on heavily, both before the COVID-19 pandemic and during, is the shift to virtual care and digital technologies. Dr. Connelly says, "The adoption of virtual care was a big change for us. It was always something we had talked about, not knowing it was going to be thrust upon us, thinking about how we manage the wait lists and the scarcity of clinic time to see patients in person." Since then, the Department has been working with eConsults, eReferrals, and telemedicine. "We also learned how to use digital technology to administer and manage our care. We are excited to be a part of the pilot project for eReferrals and the Novari project for waitlist management. We started working with eReferrals to facilitate those and moved when the two platforms forged together. We see it as the next step as we eagerly anticipate the new HIS system coming to KHSC," Dr. Connelly says. 
For Dr. Connelly, he is happy with the work his Department is able to accomplish with the resources they have. "It's something I'm quite proud of – that we're able to deliver this level of care with the small number of faculty in our Department. It helps keep kids closer to the community." 
For more information about the Department, check out their website.