SEAMO's leadership and admin team wish our physicians a restful and relaxing summer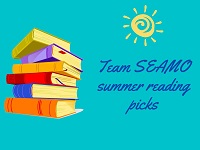 season. To help you enjoy some well-deserved time off, please check out our team's reading recommendations for the sunshine.
Dr. Jane Philpott, CEO:
Fiction – The Rose Code by Kate Quinn and The Map of Salt and Stars by Zeyn Joukhadar
Non-fiction – Code Breaker by Walter Isaacson
Dr. Diane Lougheed, Medical Director:
Easy read – Precious Cargo: My Year of Driving the Kids on School Bus 3077 by Craig Davidson
On my summer reading list – A Man Called Ove by Fredrick Backman
Currently reading (non-fiction) – Nerve: Lessons on Leadership from Two Women Who Went First by Martha Piper and Indira Samarasekera
Danielle Claus, Executive Director: 
Memoir – Born a Crime: Stories from a South African Childhood (Trevor Noah – he also narrates the audiobook – thought-provoking and funny)
Romance – Book Lovers (Emily Henry – great dialogue between two main characters – fast and fun read)
Mystery – The Word is Murder and The Sentence is Death (both by Anthony Horowitz - very good writing)
Fantasy – Six of Crows and Crooked Kingdom (both by Leigh Bardugo whose book Shadow and Bone has been made into a Netflix series - amazing storytelling and wonderful world-building)
Stacey Wolfrom, Director of Operations:
Easy summer read: An Embarrassment of Mangoes: A Caribbean Interlude by Ann Vanderhoof
Favourite read: A Gentleman in Moscow by Amor Towles
Kathleen McGrath, Project Manager:
We Don't Know Ourselves: A Personal History of Modern Ireland by Fintan O'Toole – part history, part memoir and extremely readable for anyone with an interest in Ireland
Savoula Stylianou, Communications & Events Coordinator:
Start Without Me (I'll Be There in a Minute) by TV writer, satirist, and Instagram-famous royals watcher Gary Janetti is a LOL-worthy must-read of true-life short stories perfect for any summer vacation. 
Saad Sajid, Data Analyst:
Man Enough by Justin Baldoni is incredible! It talks about the effects of traditionally-defined masculinity (the toxic side of it), undefining traditional masculinity and how it not only negatively affects men, but those people who men interact with. Although tailored towards men, it is a great read for all genders.
LeeAnne Howland, Administrative Assistant:
The Horsewoman by James Patterson and Mike Lupica
Heidi Langen, Business Analyst:
This website is more than just books: it's food, wine and travel in France and there are usually some logistical issues that have traffic jams and ducks being herded around causing mayhem and lots of hilarity. 
Stephanie Hutton, Regional eConsult Coordinator:
New favourite – The Seven Husbands of Evelyn Hugo by Taylor Jenkins Reid
Currently reading – Where the Crawdads Sing by Delia Owens