During the third wave of the COVID-19 pandemic, our physicians have gone above and beyond in their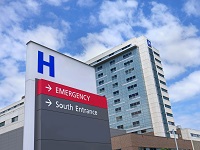 work. Just a few examples are provided below.
CRITICAL CARE
The Department of Critical Care Medicine has more than doubled its size during the pandemic, supporting patient transfers from the greater Toronto area hospitals. This has been integral to stabilizing the ICU system across Ontario and as a result, many lives have been saved.  Dr. Dan Howes led the Department in its expansion to up to seven teams providing in-house care in four new areas of the hospital. "I'm tremendously proud of the work of the Critical Care physicians." Dr. Howes says, "They've put in long hours caring for patients under challenging conditions, but have remained flexible and adaptable. Our core Critical Care group was supported by intensivists from other Departments and the region. They've taken care of each other as well as their patients, and it's been a real pleasure to serve alongside a team I admire so much." 
EMERGENCY MEDICINE
Department of Emergency Medicine Head Dr. David Messenger says throughout the pandemic, emergency physicians have added expanded physician coverage hours at the KGH Emergency Department to operationalize a "hot zone" where suspected COVID patients can be assessed and managed separate from the general Emergency Department population. "While early in the pandemic, Emergency Department volumes dropped substantially, during the most recent wave, we have not seen a similar decrease; in fact, over the last three months, our daily patient visits have increased towards the pre-pandemic baseline. We continue to see and care for patients who have felt an impact from decreased access to other services including primary and specialist care during this period of restricted in-person clinic visits," he says. Dr. Messenger says additionally, the Emergency Department physicians see the toll that the pandemic has taken on mental health in the community and physicians and staff are caring for unprecedented numbers of patients presenting with acute mental health emergencies or complications from substance misuse. "Throughout these challenging times, however, the Emergency Department patient care team (physicians, residents, nurses, care assistants, respiratory therapists, social workers and others) and our first responder colleagues have worked tirelessly to maintain access to urgent and emergency care for residents of our community." 
HOSPITALIST MEDICINE
Chair of the Division of Hospitalist Medicine, Dr. Ammar Rashid, says the hospitalists have played a leading role at Providence Care during COVID-19. "In our response to the pandemic, Providence Care added up to 52 additional beds that supported transfers of patients from acute care hospitals so they could focus on COVID patients. We also added capacity to our long-term mechanical ventilation program. We previously had two mechanically ventilated patient beds and we expanded that to seven for more capacity in post-ICU rehab," he says. These additional beds have been supported by the voluntary recruitment of several new locum family doctors. Dr. Rashid also explains that the admission criteria for patient transfers has been broadened which includes accepting patients that are earlier in their rehab journey and presenting with more acute medical issues. 
Family Medicine Department Head, Dr. Michael Green, says it has been amazing to see how flexible and supportive physicians have been in helping out across the hospital system. 
MEDICINE
Department of Medicine Head Dr. Stephen Archer says the entire Department of 130 faculty members have been active in the COVID-19 response. "Each of us has been at work, on site, every day managing patients, continuing and pivoting our research, and educating our trainees, while providing support to each other since the pandemic began." Dr. Archer says the Department has upheld consistent recruitment, with 14 new faculty joining the DOM since last March and another 11 joining over the next six months. "Our members have taken the lead in creating COVID-19 wards and we have implemented effective communication strategies to inform members and the greater community by clarifying misconceptions about COVID and providing answers to frequently asked questions," he says. Dr. Archer also says the Department has done its best to maintain morale and recognize everyone's efforts, such as providing wardrobes full of scrubs, gallons of sanitizer and virtual social gatherings. "Although the past year has certainly been an intense and challenging one, I could not be prouder to serve alongside such an incredible group of colleagues," he says. 
Thank you to all of our healthcare providers who have gone above and beyond during these very challenging times to provide exceptional patient care to people in our community and throughout the province.