Recently SEAMO undertook a process to select a consultant to assist with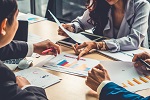 creating a new Strategic Plan for our organization. The Potential Group, who have extensive experience working with academic health care organizations across Canada, will be helping us with this endeavor. During the Mon. Jan. 4 SEAMO Governing Committee meeting, the Potential Group showed a presentation on their next steps in crafting a Strategic Plan. 
The group has a four-phase process they are looking to follow:
1)    Scoping, planning and setting initial directions (January 2021)
2)    Pollination – broad engagement and gathering insights and ideas for in-depth consideration (February/March 2021)
a.    During this process, the Potential Group will hold virtual focus groups and interview key partners and leaders across the region.
3)    Strategy Hives – in-depth dialogue and planning on a consolidated list of key topics identified in the engagement process (April/May 2021)
a.    During this process, the Potential Group will host five or six virtual planning sessions on specific topics
4)    Harvesting – finalizing strategy and launching implementation (May/June 2021)
a.    During this process, the Potential Group will develop an initial strategy framework based on the hives, map out a robust strategy framework and provide coaching support to leaders
Stay tuned to our e-newsletters for further information regarding our new Strategic Plan.
Importantly, let us know if you would like to participate in the strategic planning process by sending an email to seamo.communication@queensu.ca; we would be happy to involve you.