This year's Endowed Scholarship and Education Fund competition had an incredible 16 applications with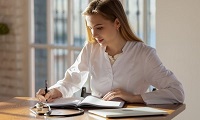 nine successful candidates from seven different Departments. Congratulations to the following physicians who will be able to use this award in their respective fields of research. 
Ramana Appireddy from the Department of Medicine's project is titled "Exploring the integration and assessment of the CanMEDS roles during virtual care encounters." He said, "Thrilled to have received the SEAMO Endowed scholarship grant for 2021. I want to thank my colleagues and co-investigators - Dr. Faizal Haji, Dr. Boris Zevin, Dr. Steve Mann, Dr. Wiley Chung, Dr. Nancy Dalgarno and Dr. Heather Braund for their support towards this project. This funding will help us to explore the integration and assessment of CanMEDS role in virtual care encounters."
Sussan Askari from the Department of Physical Medicine & Rehabilitation's project is titled "Equipping a new generation of physicians to address root causes of chronic diseases: a randomized control trial of remote culinary coaching medical education program." She said, "Empowering undergraduate medical students with life-changing nutritional knowledge and skills is the primary objective of the Culinary Coaching Medical Education Program. This fund begins the quest of integrating healthy lifestyle objectives into everyday patient care and provides an excellent opportunity to invoke lasting change."
Wiley Chung from the Department of Surgery's project is titled "Views from the frontline: the perceived impact of shorter resident call shifts on learning opportunities." He said, "I am grateful for the funding from SEAMO to study the perceived impact of shorter call shifts on resident learning.  We will use this knowledge to enhance our clinical and academic curriculum by developing strategies that counter the adverse perceived learning effects. This knowledge will help provide guidance to Canadian residency programs that are looking to shorten resident call shifts without sacrificing their educational experience."
Fabiano Gomes from the Department of Psychiatry's project is titled "Applying a game-based learning approach to develop competence for the clinical use of lithium." He said, "Being awarded the 2021 SEAMO Endowed Scholarship and Education Fund grant to develop a game-based intervention to educate clinicians about the use of lithium means a lot to me. It reiterates the continuous support to early-career clinician-scientists at both Queen's and KHSC and will allow us to fund an innovative educational initiative that may increase the use of a lifesaving treatment in our community."
Andrea Guerin from the Department of Pediatrics' project is titled "COVID and clerkship: an outcome harvest of the COVID-19 on the clinical clerkship." She said, "This funding means that I will have the necessary resources to complete my research on the impact of COVID-19 on clinical learning experiences for medical students. This is a once in a career research opportunity and I am grateful to have this support."
Mala Joneja from the Department of Medicine's project is titled "Lessons from the Faculty of Health Sciences Dean's Action Table on Equity, Diversity, and Inclusion: implications for transforming the clinical learning environment in health professions education." She said, ""I am sincerely thankful for the funding from SEAMO to examine the Dean's Action Table on EDI and what the work of this table means for advancing health professions education. The DAT-EDI is a unique group of faculty, students and staff working together to promote EDI and I am hoping other organizations will replicate this initiative. The funding for SEAMO will allow us to examine the work and report on it."
Christine Law from the Department of Ophthalmology's project is titled "Development of an arts-based program for improving cultural humility and safety in medical education." She said, "The Art and Medicine Working Group is so grateful for the SEAMO funding and support to continue our interdisciplinary collaboration in enhancing medical education through art teaching techniques. Specifically, the discussion and analysis surrounding art pieces is a fantastic low-stakes way of opening up communication and perspective awareness among medical trainees and professionals, lending itself well to enhancing cultural awareness and safety. We are very excited to now have the resources to develop our ideas into reality and help further the fantastic medical education already available at Queen's University."
Marie Leung from the Department of Medicine's project is titled "Exploring professional identity formation in clerkship medical students during the COVID-19 global health emergency." She said, "My sincerest thanks to SEAMO for supporting my research endeavors. This scholarship will allow the exploration of the impact of critical events in undergraduate medical training, such as the COVID-19 pandemic, to positively impact professional identity - supporting the future physicians of tomorrow."
Naji Touma from the Department of Urology's project is titled "Research productivity of medical students entering surgical specialties and sustainability of research during residency." He said, "This funding will allow us to identify predictors of successful surgeon scientists, and whether our efforts should be targeted at the undergraduate, or postgraduate level."
For more information on the Fund, please visit our Funding Opportunities page.